3 Ways The Debt Ceiling Crisis Impacts Black Households As Lawmakers Negotiate Resolution
A government default endangers federal payments 'families rely on to make ends meet,' says a White House blog.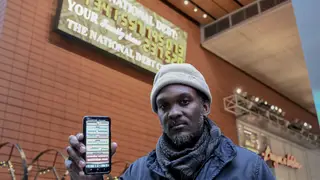 There's a lot at stake for Black Americans in the ongoing debt ceiling dispute that could impact their income, healthcare and other benefits. For generations, federal employment was a means for Black Americans to enter the middle class. Today, they represent roughly 20 percent of the federal workforce.
Our community is also overly reliant on Social Security as the only source of retirement income compared to White Americans. A Social Security Administration study published in 1999 found that 45 percent of Blacks depended on social security for 90 percent or more of their income, compared to 29 percent of whites.

During his State of the Union address on Tuesday night (Feb. 7), President Joe Biden challenged Republicans on the debt ceiling and GOP legislators jeered at him as he said that the party wanted to make entitlements like Medicare and Social Security sunset. But he pushed back: ""The idea is, we're not going to be moved into being threatened to default on the debt," Biden said. "So folks, as we all apparently agree, Social Security and Medicare is off the books now, right? They're not to be touched."
The clock is ticking on a possible federal government default, as the U.S. Treasury Department uses creative accounting to keep the government financially afloat. On Jan. 19, Treasury Secretary Janet Yellen notified congressional leaders in a letter that she's taking "extraordinary measures" to keep paying the federal government's bills because the U.S. hit its debt limit.
These extraordinary measures could delay a possible catastrophe until early June, but Yellen urged lawmakers to get their house in order as soon as possible by either suspending or increasing the debt ceiling.
What is the debt ceiling?
The debt ceiling is the amount of money the Treasury is authorized to borrow to pay its bills. Currently, the ceiling is $31.4 trillion. The United States runs budget deficits, which means Washington spends more than it collects in taxes and other revenue sources. Since the federal government doesn't have sufficient income, it borrows money to cover the cost of its financial obligations, from salaries to employees to social safety net programs and interest payments on the national debt.

PHOTOS: Everything You Need to Know About the Debt Ceiling Crisis – Again
What is a government default?
A default would occur if the government doesn't have enough money to cover its financial obligations. It could send shockwaves throughout the global economy and the domestic economy.
"A default would fundamentally hinder the federal government from serving the American people. Payments from the federal government that families rely on to make ends meet would be endangered," a White House blog said.
"The basic functions of the federal government—including maintaining national defense, national parks, and countless others—would be at risk. The public health system, which has enabled this country to react to a global pandemic, would be unable to adequately function."
What's happening in Congress
Congress can raise or temporarily suspend the debt ceiling to prevent a debt limit crisis, which lawmakers have done many times. But Republicans and Democrats are in a standoff. As The New York Times reports, some Republicans insist that the crisis is overblown. House Speaker Kevin McCarthy, a Republican, wants to use the debt ceiling crisis as leverage to force Democrats to agree to spending cuts.
If the impasse continues, here are some of the ways the debt ceiling crisis could impact Black Americans.
1. Social Security and Medicare

Seniors are at risk. The government might not be able to send monthly checks or pay for Medicare, the federal healthcare insurance program for elders. At the same time, House Republicans have floated ideas of pushing back the Social Security retirement age from 66 or 67 to 70, while delaying the age for claiming Medicare from 65 to 67.

According to Republicans, those changes are needed to keep the programs solvent. As an alternative to propping up the program, some experts argue that raising payroll tax is a viable solution.

2. Government Workers

In the worst case scenario, paychecks to government workers could stop, but they would still have to work until the standoff is resolved, according to Forbes. Instead of receiving no pay, government employees could receive partial or delayed paychecks. Eventually, the government would catch up on back pay.

3. SNAP recipients

Supplemental Nutrition Assistance Program (SNAP, formerly known as food stamps) recipients face the short-term peril that the government would delay benefits, according to Yahoo.com. The long-term situation is that the government will permanently cut SNAP benefits and reduce the rolls by increasing the requirements to qualify for this benefit.