Harlem Sticks Together: Cam'ron And Ma$e Perform 'Horse & Carriage' For First Time Ever At Apollo Theater
It comes nearly 25 years after the song debuted.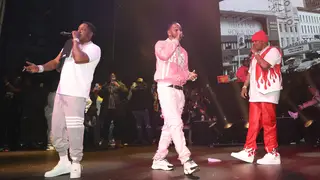 Surprisingly, for the first time ever, Cam'ron and Ma$e performed one of their classic collaborations 25 years after it dropped.
During a one-night-only show, alongside Jadakiss at the historic Apollo Theater on Saturday (January 28), the Harlem native performed "Horse & Carriage".
Video surfacing on social media shows Kiss announcing the "first time ever" performance of the hit to fans at the Apollo.
"Imma keep it a hundred: I ain't do this song in so long," he said. "So Imma just act like y'all know it and do a little bit of this [dance]." To which Ma$e added, "Yo, we never got to perform this song. We never got to perform this."
According to the venue's website, the concert was part of its 2022-2023 The Next Movement season, which is described as "an exploration of what's new, now and next in music, dance, art and ideas."
"Horse & Carriage" was originally released by Cam in 1998. At the time and as a Bad Boy signee, Ma$e's appearance on the song served as a major cosign. While the two were childhood friends and members of the group Children Of The Corn, the two have since grown apart.
Check out the footage of the set below.