Waka Flocka Flame Speaks His Mind On School Shootings Since None Happened Last Month
The rapper went so far as to call for execution for school shooters.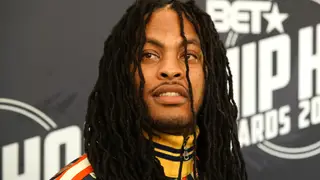 Waka Flocka Flame has never been one to shy away from stating what's his mind, regardless of controversy.
His thoughts on school shooters are no exception. On Tuesday (April 14), a tweet about school shooting statistics went viral online when Robert Klemko, an investigative reporter for the Washington Post, noted there have been no school shootings in March for the first time in 18 years as a result of classroom closings due to coronavirus.

Later that day, celebrity gossip hub Hollywood Unlocked reshared a screenshot of the tweet with their Instagram followers and asked them for their thoughts. 

Waka Flocka sounded off with his opinion in the post's comments section. "I feel who ever shoot up a school need the death penalty no exception," he wrote. "But hey, I'm just telling the truth." His remark sparked a debate on capital punishment in America as people chimed in with their responses. Opinions split between both those in favor and those opposed to the proposed measure. 

The Atlanta rapper's latest hot take comes after he previously aired out that he thinks cheating on his wife, Love & Hip-Hop star Tammy Rivera, made her a "better" person.