Rapper Casanova Names 5 Attributes That Make Him 'So Brooklyn'
We catch up with the Brooklyn rapper in the streets of ATL.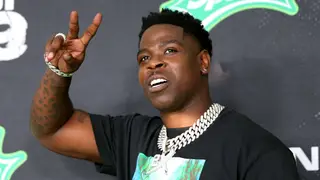 Standing at six-foot-four, Caswell "Casanova" Senior is dressed in all-black hovering over a bevy of team comrades just outside of Atlanta's premier steakhouse, Ruth's Chris. 
Upon devouring his first meal of the day alongside a few celebratory libations, Casanova is immediately tasked with heading toward his next destination: the 2019 BET Hip Hop Awards red carpet at the Cobb Energy Performing Arts Centre. 
"I feel like hip-hop right now is just dope. We got a voice more than ever. It's so many different artists and people just doing their thing. It's amazing," is what the New York MC had to say about the current state of rap music and culture. 
Before Casanova and his public relations rep could climb into an SUV headed for the evening's main event, a chance off-site meeting would have the rapper quickly run-down at least five of the essential qualities that make him a product of his native Brooklyn borough.  
In the spirit of his latest single with fellow Brooklynite Fabolous, here are the five things that make Casanova "So Brooklyn."
Of The People

"I can go to any borough and I feel comfortable. Any state and any country. I'm good on every block." 

New York Swag

"I rock Timbs every season for ass-kicking reasons."

Fear No Man

"'Cause I did the same thing walking out of bookings!" [Laughs]

By Any Means

"I'm so Brooklyn, you know — I like that n*gga's chain, so I took it." 

Native Son

"When you think of Brooklyn, you just think of Casanova. You don't really think of nobody else. I'm so Brooklyn."