Vic Mensa Creates Ghana Clean Water Initiative
More than 200,000 people could benefit from the program.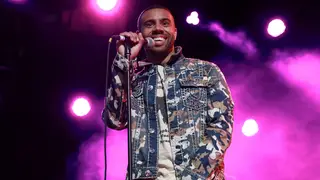 Vic Mensa is making an impact in Africa that will span far beyond this week.
The Chicago rapper is set to co-headline a festival in Ghana this week, but is also heading up an initiative to bring clean water to three villages in the West African nation.
According to TMZ, Mensa was moved after seeing the stark conditions, which include contaminated water, so he decided to partner with his father, a native of Ghana, to launch their joint project.
"We're building three boreholes in different communities in Ghana to provide clean drinking water; the first being the Asokore Zongo in Koforidua where my family lives, which is already built," Vic said, according to the news outlet.
"The other locations are a nearby community called Effiduase and then our ancestral village in the Volta Region, Amedzofe," he added. "Most people in communities like this in Ghana experience constant waterborne diseases."
Around 200,000 people live in Koforidua, while 20,000 and 6,000 live in Effiduase and Amedzofe respectively. Drilling for the boreholes in order to access the water will reportedly take three to four weeks, barring any hiccups, and will include pipework and cable installations.
Vic Mensa is scheduled to be joined by longtime friend Chance The Rapper and Erykah Badu on Saturday (January 7) for the Black Star Line Festival.