Vic Mensa Gives Away $10K Worth Of Gas In Chicago
The giveaway was in partnership with his cannabis company 93 Boyz.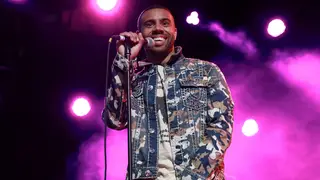 Rapper Vic Mensa headed to his Southside neighborhood of Chicago earlier this month to donate gas to the community.
According to TMZ, Mensa's cannabis company 93 Boyz, hosted the giveaway and filled up 200 cars and also passed out samples from his company.
Mensa  told the outlet that "he feels good doing service for his community" and that the goal for 93 Boyz is to "always be performing acts of charity for inner city minorities."
93 Boyz is Chicago's first Black-owned cannabis company, which he launched back in  August of this year.
At the time of launching 93 Boyz Mensa explained to The Triibe, a local Chicago publication, how it felt to launch his new business venture.
"I feel phenomenal to be able to be the first Black-owned cannabis brand operating in the state of Illinois," he said. "At the same time, I recognize that excitement comes with much more work to do culturally. I feel the excitement."
In other Vic Mensa news, the artist, alongside Chance The Rapper has partnered on an upcoming festival that will take over West Africa.
Inspired by Jamaican activist Marcus Garvey, The Black Star Line Festival will take place in Ghana, West Africa at the historic Black Star Square on Jan. 6, 2023, according to a press release obtained by BET.com.
"Founded in 1919, and operated by Black people, the [Black Star Line] would link America, the Caribbean and Africa, to global shipping and tourism opportunities," the press release explains. "The Black Star Line was a symbol of pride, not only for Africans, but also for Black people in all ports of call.