Coachella Sets a High Bar For the Start of Festival Season
This year featured one of the most diverse showcases of Black artists to ever perform on the festival's main stage.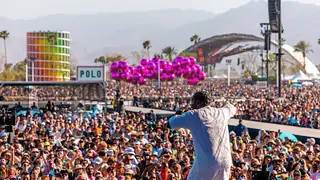 Festival season is officially in full effect.
Over the weekend (April 14–16), music lovers from all over the world made their yearly trek to the desert with the hope of seeing their favorites like Frank Ocean, Burna Boy, and Bad Bunny up close and personal.
But what made this year's Coachella festival particularly unique was that for the first-time in its history, the event featured not one, white headliner. That's right, this was an all-POC driven music lineup and BET is here for all of it.
Let's start with Bad Bunny making history as the first-ever Latin headliner, BlackPink cementing their names as the first ever Korean pop group to headline, and Frank Ocean, chosen to close out the weekend.
Just last year, an average of 122,000 people attended Coachella each day, but with this year's lineup it was most likely much more, and embedded in those stats is also likely a more diverse audience.
Over the course of the weekend, as a first-time Coachella reveler, I soaked in everything just by attending some of the most sought-after performances, making the most of being scattered throughout the desert, and speaking with several attendees, including R&B star Amber Mark.
My goal – to get the inside scoop on how to navigate Coachella from the pros who have been here before and get the tea on why this year's lineup has caused such a stir since Beyoncé first announced her appearance (and subsequent epic performance) at Coachella in 2018. So, here's what I found out.
Day 1: Burna Boy and Bad Bunny
When I first stepped into the desert during mid-afternoon, I was met with the strong smell of freshly cut grass, mac and cheese, and loaded tater tots with a touch of lemonade and pizza from area food trucks.
Friends laughed while taking selfies, couples held hands as they made their way to different vendors, bopping along as electronic music played in the background. What blew me away was the array of bold fashion choices. A lot of women wore flowing pants with the required cowboy hats and boots to finish off the "uniform." Many wore glitter and rhinestones on their faces, while the guys mostly went for jerseys or no shirt at all.
A group of Black women waiting for the show to start explained what got them to come out in the desert heat. Kyla, who traveled all the way from Houston, Texas, said it was her first time, and although it wasn't her usual vibe, she was having fun. She came with friends Alicia, a second-timer from San Diego, and Trenikia, also a first-timer from Houston.
"It's a chill vibe, the way you're expressing yourself, all the outfits, all the clothing just feeling good," Trenikia said. All three range in age from 26 to 40, and they were particularly excited to see GloRilla, Frank Ocean, Latto and Burna Boy this weekend.
Next, I caught up with R&B singer/songwriter Amber Mark at the Aperol's Lounge over cocktails (specifically the Aperol spritz) for the iconic Italian aperitivo's Coachella debut. Mark explains that the first time she tried the Aperol Spritz was during a trip to Italy, where she sipped it by the Mediterranean Ocean. "You can tap into that world by having one here in the desert, it feels like vacation."
Mark performed at the festival in 2022, but this year, she's attending purely as a fan, anticipating the performances of Bad Bunny, Rosalia, Pusha T, and Blink 182, among others.
Remarkably, Mark's first time at Coachella coincided with what's commonly referred to as "Beychella," when Beyonce dominated the stage in 2018. Having been on the main stage at Coachella herself, Mark says it can be incredibly nerve-wracking.
"It's Coachella, it's the biggest festival in the world; you want to do it justice. There are just so many acts killing it every single year."
When Burna Boy first hit the main stage to sing some of his hit songs, including "Gbona," and "Ye Ye Ye," it was clear his fanbase had crossed international waters. Yes, his Black fans sang along, but so did everyone else, causing me to do a double take when I saw so many people outside of our community vibing to his music. They not only knew the words but the dances as well. Burna Boy noticed the huge turnout and humbly remarked to the crowd that it was a blessing. "Four years ago, the crowd was a quarter of the size that it is now," he told attendees.
What seemed to be the largest turnout of the night was Bad Bunny's groundbreaking headlining performance, which got the party lit. Endorsed by his legions of Latin fans, the crowd collectively danced and sang along during his set, which lasted for two hours. It was a remarkable way to close out the first night of the festival .
Day 2: Discovering of New Fans
Stepping into the grounds on day 2, there seemed to be even more people in attendance. The crowd got a taste of what Coachella had to offer and now they want more. Welcome to the stage Labrinth, Rosalia,Shenseea, FloMilli and IDK.
Su, 24, who traveled all the way from Atlanta, was attending for the first-time with friends and decided to camp out. "I like all the different types of music that they offer," said Su, who also discovered Tobe Nwigwe and now counts herself as a new fan.
Day 3: Oceans Far and Wide
The last day of the festival, thousands of concertgoers were buzzing with excitement about Frank Ocean's performance later in the evening. Artists like Willow, Björk, Latto and GloRilla also performed. Willow, who has come a long way from whipping her hair back and forth, blew people away with her rock and roll presence and charisma.
This is Joshua's second trip to Coachella. "It's a great time for up-and-coming rap artists like GloRilla and Latto. It's their time," said the 30-year-old Los Angeles resident. He called the diversity this year a "really nice blend."
Unsurprisingly, Ocean drew a crowd that was bigger than I've ever seen, although Bad Bunny's performance on Friday night drew similar numbers. Ocean closed out the weekend to a mixed bag of fan reactions. The experience left some feeling annoyed and confused (it started an hour late), while others just enjoyed being in the environment with the good friends they came with and with the new friends they made throughout the weekend.
All in all, my first Coachella was an amazingly eclectic introduction to the festival season, and one I will soon not forget. It made me realize Coachella is intentionally adding more diverse acts and opening up the experience to Black fans. It's a party, a moment, and a good time for all.