The 38th Annual Stellar Gospel Music Awards Returns To BET
CeCe Winans, Dr. Bobby Jones, and Reverend Dr. Milton Biggham are all set to be honored when the show airs this August.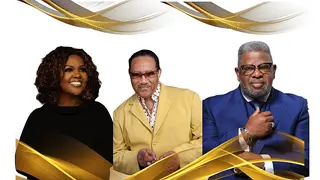 The greatest night in Gospel music returns with the 38th annual Stellar Awards, on Saturday, July 15, 2023, and airs on BET on Sunday, August 6 at 8 p.m. ET/PT. The prestigious live award ceremony will be at the Orleans Arena in Las Vegas, and co-hosted by Jonathan McReynolds and Tasha Cobbs Leonard.
Musical legend CeCe Winans will be honored with the esteemed "Aretha Franklin Icon Award," recognizing her exceptional talent and undeniable impact. Dr. Bobby Jones and Rev. Dr. Milton Biggham will also receive the "Thomas A. Dorsey Most Notable Achievement Award" and the "James Cleveland Lifetime Achievement Award," respectively, for their work and contributions to the industry.
Winans is the best-selling and most-awarded female gospel artist of all time. Her latest chart-topping musical offering, "Believe For It" is her first live recording, featuring some of the biggest songs in Christian music today.
 In 1980, Jones joined BET with the premiere of "Bobby Jones Gospel," touted as the longest continuously running original series on cable television, where he served as host and executive producer. His contributions to the artistry of gospel music include a Grammy Award, several Dove Awards, Stellar Awards, Trumpet Awards, and a presidential commendation from former President George W. Bush.
"Gospel music is my life. "I live it, breathe it, talk, and walk it," said Rev. Biggham in a statement. He has over 40 years of experience in the gospel music industry, and has recorded, performed with, written for, and /or produced some of the biggest names in gospel, including the legendary Rev. James Cleveland, Albertina Walker,  The Mississippi Mass Choir, Dorothy Norwood, and countless others.
Over half a dozen performers will take the stage that evening, including  Kierra Sheard-Kelly, Naomi Raine, Pastor Mike Jr., Maranda Curtis, Tim Bowman Jr. & Faith City Music, Doe, Dorothy Norwood, Zacardi Cortez, HLE, and Lena Byrd Miles.
The emerging voice stage will showcase, the incredible talent or rising stars of HLE and Lena Byrd Miles, with additional performers and presenters to be announced later.
The Stellar Awards Red Carpet Special pre-show will be televised on the newly launched Stellar Network on Sunday, July 30 at 5 p.m. ET, followed by The Stellar Gospel Music Awards telecast at 6 p.m. ET.
Tickets for the Stellar Awards Red Carpet Special pre-show and the 38th Stellar Awards are now available for purchase at http://www.ticketmaster.com.