Supreme Court Rejects Alabama's Attempt To Disregard Voting Rights Decision
Alabama must comply with redrawn maps that allow Black voters to elect a representative of their choice.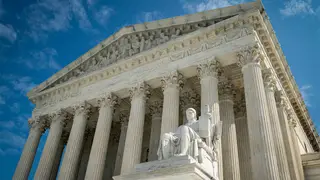 For a second time in just three months, the U.S. Supreme Court ruled in favor of Black Alabama voters.
The New York Times reports that the high court on Tuesday (Sept. 26) declined to hear Alabama's second appeal of a lower court's order to allow Black voters a better opportunity to elect a representative of their choice. The justices gave no reason for their decision, which is typical in emergency applications.
"This is a victory for all Americans, particularly voters of color, who have fought tirelessly for equal representation as citizens of this nation," former U.S. Attorney General Eric Holder, chairman of the National Democratic Redistricting Committee, said of the decision, according to The Associated Press.
In January 2022, a panel of three federal judges ordered Alabama to redraw its congressional lines to create a second majority-Black district "or something quite close to it." The judges ruled that Alabama's map violated the Voting Rights Act.
Alabama appealed to the Supreme Court.
Alabama's Republican-controlled legislature returned to the drawing board but defied the Supreme Court and lower court's rulings.
On July 21, conservative lawmakers approved new district lines with only one majority-Black district out of seven districts, even though the state is 27 percent Black. In creating the new congressional map, the Republicans increased the percentage of Black voters from 31 percent to almost 40 percent in the majority White 2nd Congressional District, while decreasing the Black representation in the state's only majority Black district to 50.65 percent.
That move set up a second confrontation with the appeals court's three-judge panel.
On Sept. 5, the three-judge panel rejected Alabama's redrawn district map, ruling that the state failed to comply with its earlier orders. They didn't trust Alabama to draw another map.
"Based on the evidence before us, including testimony from the Legislators, we have no reason to believe that allowing the Legislature still another opportunity to draw yet another map will yield a map that includes an additional opportunity district," the court said, according to AL.com, ordering a special master and cartographer "to commence work forthwith on a remedial map."
In Tuesday's ruling (Sept. 26), the Supreme Court rejected Alabama's plea to retain its Republican-drawn lines. By not intervening, the high court allowed the special master's work to continue.
The ruling has national implications. Creating a second majority-Black district increases the likelihood that voters will send a Democrat to Congress, where Republicans hold a slim majority in the House.
Alabama's Republican Attorney General Steve Marshall, who oversaw the state's efforts to impose the rejected map on voters, remained defiant.
"There should be nothing more offensive to the people of our great state than to be sidelined in 2023 by a view of Alabama that is stuck in 1963," Marshall said, according to The AP. "This racial agenda is pressed by left-wing activists, not just in Alabama, but in any Republican state where it might advantage Democrats."