NeNe Leakes Claims Trump's Secret Service Is Following Her
The 'Real Housewives' star had appeared on POTUS' show 'The Apprentice.'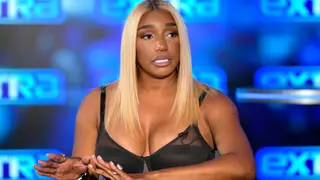 NeNe Leakes claims she's getting some unwanted attention from Donald Trump.
During a live Instagram chat with her fans on Saturday (April 3), the Real Housewives of Atlanta star revealed the president's secret service recently followed her around a Beverly Hills hotel.
The story came up when a fan asked her how she feels about Trump.
"I don't have an issue with Donald Trump, um I did not vote for him for my president, but I don't have an issue with him," she began, before continuing, "I do have a little small issue. I was recently staying at a hotel in Beverly Hills and he was staying there as well. I was there before he arrived. I did not know he that he would be staying there, and I really felt like the secret service followed me the entire time I was in the hotel. I was very upset by that. I even told the hotel that that was inappropriate."
Leakes, of course, knows Trump personally from competing on his reality show The Apprentice in 2011.