Uzo Aduba Celebrates Baby Shower Surrounded By Family and Friends
The "Orange is the New Black" actress announced she was pregnant in June while at the 2023 Tony Awards.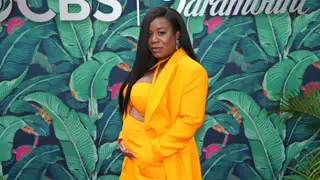 Emmy award-winning actress Uzo Aduba was "showered" with love to celebrate her and her husband Robert Sweeting's first child.
The star, known for her character on Netflix's "Orange is the New Black," took to Instagram yesterday to share photos from the party, expressing gratitude for her family and friends.
"It was such an amazing feeling to have our families host a baby shower for us, and to spend great time with our loved ones," she captioned.
At the 2023 Tony Awards in June, the actress announced her pregnancy when she debuted her baby bump on the red carpet. She then confirmed via Instagram that the couple was expecting. "I get to be someone's Mommy!" she said in the post.
The baby shower, complete with a safari-themed cake and an etched glass "Baby Sweeting" sign, is bringing lots of excitement to the happy couple. "Robert and I get more and more excited with everyday," she said. She continued thanking her guests, saying "To our friends and family- thank you for sharing in this journey with us and for making sure this baby knows just how loved they already are. We had a good good time!"
Aduba seemingly teased the gender of the baby, hinting at her pink dress for a girl in the caption. "p.s. this dress choice is hinting at nothing. I honestly just liked the color. 🤗😉" she wrote.
Tons of love and support flowed in, with singer and actress Naturi Naughton commenting, "It was beautiful! Soo happy to celebrate this time with y'all! Sending you guys all our love! ❤️❤️"