See Why This Viral Exchange Between Wiz Khalifa And Erykah Badu Is Warming Fans' Hearts
They even hinted at a possible collab...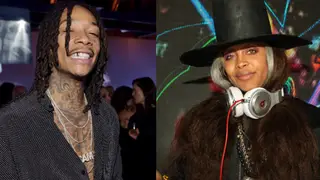 Pittsburgh-bred emcee Wiz Khalifa has been living his best life lately. He's bulked up in the gym and is a great co-parent, alongside Amber Rose, to their son, Sebastian. For the holidays, the "See You Again" rapper is basking in the Dominican Republic sun with a spliff and himself.
Wiz indulged in an innocent session of Instagram Live and was joined by a special guest— the indelible neosoulstress, Erykah Badu.
Wiz broke the ice with a smooth "what's up, gansta?"

The part that had most in their feels was when Wiz stated he was "about to get stoned, get something to eat and head to the gym." The "On & On" singer softly responded, "oh, that's beautiful." The two briefly chopped it up about their mutual love of boxing and even hinted a possible collab before Fat Belly Bella signed off. 

Fans instantly wanted to be apart of their friendship for obvious reasons

Swoon over the full exchange below.