Michael B. Jordan Has Awkward Moment On The Red Carpet With Former Classmate
The 'Creed' actor called out a reporter who he said once called him 'corny.'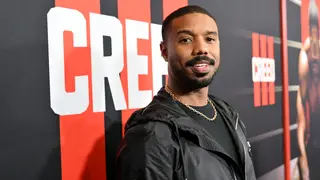 Michael B. Jordan fans are eagerly awaiting Creed III, which he not only stars in but directs. While at the premiere, Jordan had a run-in with a former classmate, and things got a bit awkward.
Jordan, 36, was being interviewed by Morning Hustle host Lore'l, who said, "We go way back, all the way back to Chad Science [Academy] in Newark."
"Oh yeah, I was the corny kid, right?" Jordan shot back.
​​Lore'l nervously laughed and claimed she was "misquoted." However, Jordan insisted he heard her call him "corny."
"No, you did not hear me say that! I said we used to make fun of the name," she continued. "But yeah, he is obviously killing things out here."
The interview continued smoothly, but ​it appears ​Lore'l didn't exactly call him corny. According to Madame Noire, during a Feb. 2021 Undressing Room podcast, co-host Dominique da Diva ​​said Jordan seemed like "a nice, corny guy."
Lore'l added, "You know what's so crazy? I went to school with Michael B. Jordan at a point in life," she said. … And to be honest with you, we teased him all the damn time because his name was Michael Jordan. Let's start there, and he was no Michael Jordan. And he also would come to school with a headshot. We lived in Newark, that's the hood. We would make fun of him like, 'What you gonna do with your stupid headshot!?' And now look at him!"
Creed III, which also stars Jonathan Majors, opens in theaters on Mar. 3. See the red carpet exchange between Jordan and Lore'l below: