Dear YesJulz: Keep Black Women's Names Out Of Your Mouth
Let today be the day NahJulz is permanently removed from the paint.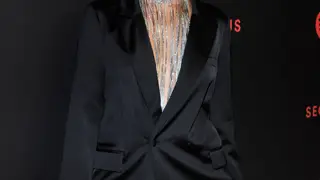 Despite her countless pleas for attention over the past several years, Julieanna 'YesJulz' Goddard has been a beneficiary of the doubt, but it's about time she's called out on her bullsh*t. This vendetta she has against Black women and the outlandish, incomprehensible need for Black men to cape for her must end.
We haven't forgotten about her 2017 incident when she tweeted a photo of a crop top that read, "ni**as lie a lot," and posed the question of whether she should wear it to a music festival she was hosting. Immediately, her bold caucasity was checked and she posted a tearful apology via her-then wildly popular Snapchat, amid being fired from two major events.
Prior to that, she stated via Twitter that, "#whitethoughts damn why do all these black girls hate me? I've been so nice! *walks out club with lightskinned dude* Black girls don't like me cuz black men do! It's a guarantee in any situation. I walk in a room w/ a group of girls, room has men from every ethnicity…. Black men B line straight 2 Julz!" 
Just a few weeks ago, the social media maven – of Puerto Rican and Italian descent – spewed some bars about her superiority over Black women, with mentions of Black-on-Black crime and her "fat ass" that she maintains isn't a surgical enhancement.
That viral crime against humanity had Joe Budden, former friend and cultural critic, asking for a lyrical breakdown, and rising hip-hop phenom Kari Faux irate proving just how much of a f*ck Julz does not give.
Not long before the video surfaced, Julz tweeted, "I got a video of me freestyling… I'm not sure if I should post it or confiscate all evidence that it ever happened." Budden's commentary on the matter boils down to him tweeting, "WackJulz dissing Blacks while being surrounded by Blacks but can't seem to make a coin without […] Man everyone have a good Saturday." That time, she took her white tears to Instagram with a lengthy rebuttal and that lyric breakdown, per request.

On Monday (Mar. 11), an interview of Julz with itsBizKit, Murda Mook and Movie Matt of the Easily Offended podcast made its rounds online and we, the culture, are fuming. She attempted to "expose" the State of the Culture host by alluding that Budden tried to date her after having her on one of his early episodes of his then-podcast, I'll Name That Podcast Later. What's more, YesJulz also shaded Black Girl Podcast host and radio-television personality, Scottie Beam as well as media strategist, Karen Civil. 

Industry veteran, Rebecca Ijeoma aka Dimplez's stance is one that had many on one accord. "I just wish more black men would collectively take this stance because that's who's enabling and empowering her platform. Her interview can be reduced to the fact when black women were done with her two prominent black men extended themselves to aid her. "What is a jump" - says a black man with no spine," she said.

Fenty Beauty model, Widny Bazile also summed up many's sentiments perfectly: "Truly sad that she still doesn't see the wrongs in her actions. We all supported you, nobody wants ya position & this platform of yours wouldn't have happened without the support of "black culture" but ur lack of knowledge & disrespect on "black culture" is the reason why…" 

Wanting to render more smoke, Julz took to Twitter claiming, "I have time now." Outside of the back-and-forth, Civil sealed Julz's fate with a simple "enjoy your clickbait." Beam asked politely to "not poke the bear" since "everyone knows [Julz] slept her way into this industry and finished her eloquent drag with this resounding tidbit.  

The above tweet is a contradiction to the reasoning behind her current backlash. Save the tears and blanket apologies, Julz. We aren't going to take the angry Black woman approach as you'd might like us to. Know that you will be handled accordingly. In no room do you have the right to target black women as a foundation to build a resume from, much less any validation or protection from Black men. We ain't your gimmick. We ain't the ones.

As far as Black men are concerned: Don't forget who are always among the first to go for bat for y'alls asses; Julz Goddard is not the hill you want to die on. Protect black women, not white ones using us as leverage for careers and coins.