Women's History Month: Harriet Tubman's Life and Legacy, Seen Through The Eyes Of Her Descendant
March marks 200 years since she was born, but her great-great-great-grandniece tells BET.com 'Aunt Harriet' was as much about taking care of people as she was about freeing them.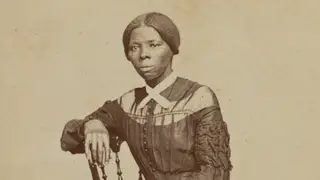 Harriet Tubman's name is synonymous with the pursuit of freedom for enslaved Black people. She is seen as not only a woman who took several trips between the North and South to bring people out of bondage on the Underground Railroad (historians estimate more than 70) but as a scout, a Union spy, a nurse, and a pioneer.

Researchers believe she was born in early March 1820 on a plantation in Dorchester County, Md. And her life ultimately was about the liberation of the enslaved, abolition of slavery, and freedom for all.  

Now, 200 years after her birth, her history and legacy are being told to a new generation by her descendants, who have striven to keep it alive. In addition, many people and organizations are celebrating the milestone by commemorating Tubman's life and works. The City of Auburn, NY, where she is buried, presents events all this year to honor her. The Maryland Office of Tourism is inviting the public to explore the eastern shore byway, which leads through the state, and features historical sites important to Tubman's story. 
All of it is part of a broad celebration organized by several groups to continue the learning of Tubman as a leader and the history around her. Ernestine Wyatt, her great-great-great-grandniece spoke to BET.com about her legacy and what it means today.
BET.com: It is 200 years since Harriet Tubman's birth, and as schoolchildren, we learned about her and her heroism, but what are some of the things that we may not know about her that you think we should?

Ernestine Wyatt: Well, the one thing I have been doing for the last few years is making her civil war service known. It's not a secret that she was in the Civil War. But for, the majority of people that talked about Aunt Harriet focused on her liberation, but they never focused on her civil war service, nor anything that she did after the Civil War.
It took a lot of courage to do what she did. But more than that, it was selfless. She put other people in the center and did not think about herself at all because when she participated in that, she did it at her peril because she could have been taken back into slavery.
So when you think about the things that you want to teach children, you want to teach them about honor, you want to teach them about love, you want to teach them about respect. All those things can be done by using Harriet Tubman and her life, what she did, and how she did it.
BET.com: A lot of people don't know that she was a spy, a soldier, or even a nurse. So what are some of the specifics about her service to the country?
Wyatt: Part of the issue was that whenever you read about her in the Civil War, it always started with, oh, she was a nurse, she was a cook, she was a laundress, then it was a spy and scout. But when I began reading more closely and talking to different scholars, you know, it was evident that spy and scout is why she was sent there.
Even in her petition for her pension, she puts spy and scout as why she deserved a pension from her service in the Civil War. I would say, throughout her life, but especially there, she showed that there were no limits to what a woman could do if she wanted to do it.
Wyatt: During the Civil War, the Revolutionary War, there have been female participation, but in the periphery. Women were not allowed to serve in a soldier's capacity in those wars. It was only as a nurse or to cook or something like that if they did. However, if they needed clandestine work, they needed somebody who could plan strategies, analyze, hide in plain sight, be good at getting around without being seen, and be able to read not only the environment to read people.
The thing is, also…which I cannot ever talk about her without saying this, she also gives credit to God for her success at what she did and because she was guided. So you know, there are many great lessons that one can learn from her for what she did then and what needs to happen now.
BET.com: What was it like for you as a child learning that a woman so important to history was your relative, and how were you introduced to her?
Wyatt: Through my family, my grandmother, my mother. She was introduced not as Harriet Tubman, this famous person. She was introduced as "Aunt Harriet." And I used to often think, why are you calling her "Aunt Harriet," you don't know her, she's been dead (laughs), but I never would say that.
My grandmother, my family, most of my mother's family, on the maternal side, lived in Auburn, N.Y., and we lived in Buffalo. My mother came to Buffalo to be "Rosie the Riveter" during World War II. But we went back to visit my grandmother often. Even before I was born, they went back every weekend.
As we grew, and we would go, my grandmother would always say, let's go visit Aunt Harriet, as though she was still alive, and we were going to see her. But that's not what that meant. It meant let's go visit the home where she was, go visit where she lived, visit the gravesite, pay honor to her and for who she was in my grandmother's life and her mother's life.
BET.com: I'm glad you said that because I want to know what are the things about our life that are still relevant given the racial issues that we're dealing with today? Everything from discrimination to police violence, there's a lot going on.
Wyatt: When you look at all the things happening today, it's not so much unlike what was happening back then when she was alive. We can look at what happened pre-Civil War, Civil War, and reconstruction time. Are we back there again? Isn't it very close to where we are now?
Look at voting rights, a constant struggle, a constant fight. When you look at it, you have the 13th Amendment with that second clause that legalizes slavery under another name, which is through prisons.
We know oppression is still here, and oppression is coming out in a way that it has gone underground. But Aunt Harriet fought against those things, and she continued to do so. She was a suffragist. She didn't lead in that area, but she lent her voice to let them see what a woman can do, why a woman should be able to vote.
As men looked at women back then, women didn't have a voice, but she let women know you do have a voice, you can have these things, look what I did. So what she showed is that, you know, you don't always have to wait on someone else. You could do something yourself, and even on a small scale, you can do something.
BET.com: There's a controversy over teaching Black history in schools, and in some states, it's become a political issue. Do you feel that learning about Harriet Tubman's legacy will be affected by that?
Wyatt: It depends on where you place her in that history and if the actual story is told. But I think that we are relying too much on African American history being taught in our schools. Now don't get me wrong. I think we should keep fighting for that, but that's not our only avenue. Because when I was growing up, and before that, you were taught about your history in your home, first of all, then in your churches, and then in your community.
In my generation, especially because that was the Black Power movement time. So we created all these centers to teach us about Africa, our African roots, how that impacted us in America, and who we are as a people.
So, because of that, then we began learning even more about all the African Americans that went before us, that did things that made it possible [to know] whose shoulders we stood on, what they sacrificed. So I think that although we should still fight to get it in the schools, I feel like we should pivot a little bit and go back to the old way when learning our history.
BET.com: Finally, can you give me any updates in the efforts to get Harriet Tubman's picture on the $20 bill?
Wyatt: Every time I'm interviewed, I'm always asked that question. I know there's some controversy within our own culture about that. What I'm asking people to do, as a descendant, is to write your congressman, write your senate people. Let them know your desire—voice what you want.
What I would like to see is a commitment, a commitment that this cannot be changed, and it will not be kicked down the road… maybe in this administration, we can get that commitment. I know that we're not going to have that $20 bill during this administration's time, but to get that commitment, that it cannot be changed, I don't care who comes into office and that they have a deadline, they cannot delay it that would be great.
For a list of events commemorating Harriet Tubman's 200th birthday, click here.
This article has been edited and condensed for clarity.