Sharelle Rosado Opens Up Her Blossoming Relationship With Chad Johnson After Sending Him A DM—The Pair Are Expecting!
The star of 'Selling Tampa' is dishing about her relationship with the former NFL star.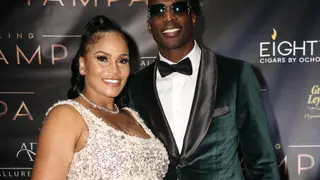 Sharelle Rosado, the star of the new series Selling Tampa, is expecting a child with her fiancé Chad Johnson. During an interview with PageSix, the realtor opened up about her relationship with the ex-NFL player. The pair officially started dating last year and recently got engaged. "He's a great guy overall and I respect him," she said of Johnson. "He's a great father, a great person, a great soulmate, and I love him."
Johnson has a few brief scenes on the show, but the new reality star made it clear that her famous fiancé was not the reason she landed her new gig. "I wanted to focus mainly on my agents, myself and my business, and it's not about Chad right now. He has his own thing going on and he supports me from afar and the same here. I support him."
In August, People reported that Rosado and Johnson were expecting a baby girl, news that the couple found out while she was in the middle of filming the show. "It was shocking. I think I was crying and laughing at the same time," she says. "I just can't wait. It's actually going by so fast. I found out I was pregnant while we were filming, so time is flying. It doesn't even seem like it's been that long." Rosado made sure to document the moment while filming the show. This will be the couple's first child, with Rosado having three children from a previous relationship and Johnson's having six children.
Given their new relationship and blended family, the couple has not decided where they will settle down and build their new life together. Currently Rosado and Johnson split their time between Tampa and Miami. "We have my house in Tampa and are building a house in Miami. We'll just travel back and forth — it's only a three hour drive."
Selling Tampa can be streamed on Netflix, where Rosado, her bump and her new beau makes an appearance.