Angel Reese Discusses The Future Of Women's Basketball And Why She Refuses To Be Boxed In
The LSU star is looking forward to winning back-to-back NCAA championships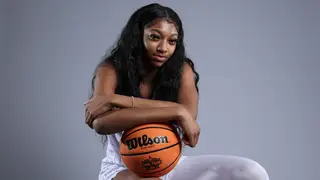 Most people didn't know the name Angel Reese before the NCAA women's basketball championship in April, but it's become clear why the LSU star forward is now looked at as a phenom who is still approaching the top of her game.
A native of Randallstown, Md., she began her collegiate career at the University of Maryland as the highest-ranked recruit in the history of the program. Although she suffered a fractured foot during her freshman season in 2020–21, in her sophomore campaign, she was named a third-team All-American by the Associated Press.
After transferring to LSU as a junior, the "Bayou Barbie," 21, was a unanimous first-team All-American selection and set the NCAA single-season record in double-doubles as well as the SEC single-season record in rebounds. Her star power is increasingly expanding off the court. Currently, her NIL evaluation is estimated at $1.3 Million,
During the 2023 Women's NCAA Tournament, Reese proved she was ready for the national stage by leading LSU to its first national championship and she was named Most Outstanding Player. In May,  she was named to Team USA's 2023 Women's AmeriCup Roster.

There was also controversy surrounding her rivalry with Iowa point guard Caitlin Clark in which she gave the"you can't see me" hand gesture in a bit of on-court trash talking during the NCAA title game. Reese was accused of taunting Clark, but insisted they never had any beef.
BET.com caught up with Reese and we spoke about her debuting in the 2023 Sports Illustrated Swimsuit Issue, why she loves trash talking, and the future of women's basketball.
BET.com: Women's basketball is now more popular than ever. How does it feel to be a part of a new generation of players who are helping to grow the sport?
Angel Reese: I don't think about it as being just me but I'm glad to play my part in helping to boost women's basketball. We want to gain as much respect as we can. Growing the game is what's important. I want little girls to know that they can do this and get to this point. I've always emphasized that. I mean, normalizing trash-talking, that's just something that a lot of people want to watch in women's basketball. We can be competitive too. [New Orleans Pelicans']  Zion Williamson and [Minnesota Timberwolves] Karl-Anthony Towns told me, "Don't ever stop doing that. We love that. We love watching the game because of that."
BET.com: In men's basketball trash talk happens all the time. Why do you think your interaction with Caitlin Clark received so much attention?
Reese: I'm not sure why it received the attention it did. We're just two competitors who really love the game and are both passionate.
BET.com: You made your official debut as a model in the 2023 Sports Illustrated's Swimsuit Issue last month. How did it feel for you to show another dimension of yourself?
Reese: I think you don't see enough women in basketball who will show both sides of themselves. I love to show my girly side and that's why they call me the "Bayou Barbie" because I mean, I'm in Baton Rouge which is the Bayou and then the Barbie part is for my hair. My hair, nails, and lashes are always done [Laughs]. So being able to show my feminine side, it's just something I've always wanted to tap into.
BET.com: Sports Illustrated is such an iconic brand and to be selected for the swimsuit issue is a significant accomplishment. Were you nervous at all during the shoot?
Reese: That's a dream come true and I was excited. When I first saw the issue with Te'a Cooper, Sue Bird, and the other WNBA players, I was like, "That's going to be me one day. I'm going to be able to do that." When I got the call, I was so surprised, and excited. At first, I was a little nervous but I got more comfortable as the shoot went on. So it was really a dream come true.
BET.com: In a press conference, I heard you say that you represent for Black girl athletes and you want them to see themselves in you. Why is it so important for you to empower young Black women?
Reese: I believe that's what I'm supposed to do. I remember walking into the store and someone said to me,  "We don't have that voice that you have so keep speaking." Things like that inspire me. I know a lot of people that look like me don't have a voice and so I try to speak out for people that look like me and women in general.  A lot of times as women, we don't get the respect that we deserve. We sometimes get half of what we should get when compared to men. I'm not taking less than anyone else. I know what it takes to work hard and to get the things that you deserve. So that's kind of where I get that from. Also, my mom is an independent, single mother. She raised me and my brother by herself. I take a lot of who I am from her.
BET.com: At LSU, Hailey Van Lith and Aneesah Morrow will be joining your championship team. What are your expectations for the upcoming season?
Reese: Man, it's about to be so lit. Haley Van Lith and Aneesah Morrow are great people. I'm excited to be teammates with them. It's great having teammates that really work hard and want to get better every day and want to push you to get better every day. I love being around people like that and that's what we do at LSU. Also, they came to grow their brands as well and it's no better place to grow your brand than LSU so they're getting it all. Aneesah is a Communications Major like me so I'll be able to help her with that. I'm excited for them and I'm excited just to keep growing at LSU and to win another championship.


BET.com: Can you tell us about your partnership with (soft drink brand) Starry?
Reese: I'm so excited to partner with Starry and I'm glad that they picked me for this. I'm excited that I'm able to work with Karl, Zion, and Matt Barnes. They recently dropped their new lemon-lime soda which I love. Also, Starry has a new commercial and short film, 3 >2: A STARRY Story that will come out during game one of the NBA Finals. Also, I'll be on the "Dial A 3" Fan Hotline" where fans call when a 3-pointer is made for a chance to win prizes and have a conversation with me. I'm excited for all this to come out. It's looking good. We're all feeling good and looking good.
BET.com: Lastly, as the WNBA season just began a few weeks ago, what team are rooting for this year?
Reese: I'm cheering for my teammates right now. I want my  Deja Williams and Alexis Morris to get through training camp. After that, I'm going to be cheering for Indiana Fever and Connecticut for sure. My two favorite players, Asia Wilson and Candice Parker. They teamed up so I'll definitely be cheering for them.