Khloé Kardashian Details The Moment She Rejected Tristan Thompson's Marriage Proposal
"I wanna be proud to say I'm engaged."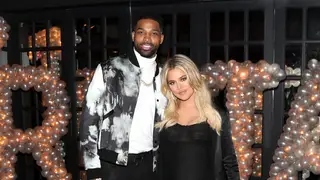 Khloé Kardashian is opening up about her complicated relationship with her ex Tristan Thompson.
On Thursday's episode of The Kardashians, the reality star revealed to her sister Kim Kardashian that she rejected Tristan's marriage proposal more than a year ago.
According to People, the proposal came just three months before the NBA player became secretly involved with another woman.
"I said, 'I need to make sure this is a totally different relationship because I wanna be proud to say I'm engaged to anyone,'" Khloe recalled about the proposal.
She further explained, "And that's why I said, 'I'm not comfortable accepting this right now because I'm not excited to tell my family,' and as hurtful as that probably was for him to hear, it was the truth. I'm not ever gonna accept something or give someone false hope, and I said that to him."
Kim compassionately responded, "I get it, that it's super draining, and I'm sorry. You don't deserve this and that's what sucks, because you're the best person. Seriously. You're the best girlfriend, wife, I tell everyone ... you are a better person than anyone that I know."
ICYMI: Khloé and Tristan, who started dating in 2016, proudly co-parent their 4-year-old daughter True Thompson. In August, the pair welcomed their second child together via surrogate.
On the show, Khloé also shared how Tristan's infidelity has personally affected her. "Going through what I went through with Tristan was incredibly hard," she revealed in a confessional about their split in January, a month after Tristan revealed he fathered a child with Maralee Nichols.
The reality star added, "The hardest part about it all is training yourself to un-love someone. This was my life for six years. And we weren't just a couple, we genuinely were best friends. He was my workout buddy, we did all these things together. And so learning how to undo all those things, that takes time. Just because someone does you dirty doesn't mean you fall out of love with them instantly."