Lore'l Insists She Did Not Bully Michael B. Jordan Or Call Him 'Corny'
The 'Morning Hustle' host had a viral moment on the red carpet with the 'Creed III' star.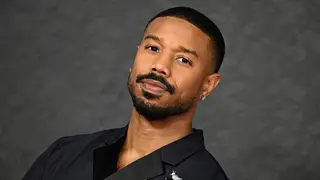 Michael B. Jordan went viral earlier this week for calling out Morning Hustle host Lore'l on the red carpet, who happened to be a former classmate from Newark, New Jersey, for calling him corny. However, as BET.com reported, Lore'l didn't specifically call him "corny" and she has now spoken out.
Lore'l told TMZ, "I just never said it. I defended him numerous times, just because of the fact that I did have a rapport with him." She did address how he was teased over his name and for carrying headshots, which caused some on social media to call her a bully. "We went to school together for one year, so the narrative that I bullied him all throughout high school," she said. "This was seventh grade. We were like, 12 years old. Everybody made fun of each other. I would get joked on because of my complexion, and I went to a predominantly Black school, so it's like, 'White girl!' We made fun of each other. That was school, that was one year. Again, I never bullied him. That just sounds outrageous to me."
She also added, "The things people are saying to me, like they hope I get raped and killed and popped in my head. I just think like, if you were upset 'cause you said that I called him corny and those are the things that you're rebutting with, it's like, the crime and the punishment—if that's what you thought I said—it doesn't even match up. How is that okay?"
Watch Lore'l's response below:
In case you missed it, on the red carpet for Creed III, Jordan was being interviewed by Lore'l, who said, "We go way back, all the way back to Chad Science [Academy] in Newark."
"Oh yeah, I was the corny kid, right?" Jordan shot back.
​​Lore'l laughed and claimed she was "misquoted." However, Jordan insisted he heard her call him "corny."
"No, you did not hear me say that! I said we used to make fun of the name," she continued. "But yeah, he is obviously killing things out here."
The interview continued smoothly but ​according to Madame Noire, during a February 2021 Undressing Room podcast co-host Dominique da Diva ​​said Jordan seemed like "a nice, corny guy."
Lore'l added, "You know what's so crazy? I went to school with Michael B. Jordan at a point in life," she said. … And to be honest with you, we teased him all the damn time because his name was Michael Jordan. Let's start there, and he was no Michael Jordan. And he also would come to school with a headshot. We lived in Newark, that's the hood. We would make fun of him like, 'What you gonna do with your stupid headshot!?' And now look at him!"
Creed III opens in theaters tomorrow (March 3). See the red carpet exchange between Jordan and Lore'l below: