Angie Stone Has an Issue With the 2016 Hip-Hop Honors
She's angry her group wasn't included in the celebration.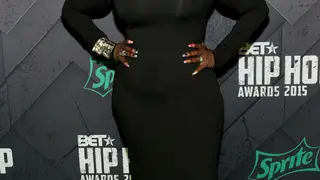 Angie Stone is fed up with  the hip-hop community's disregard of her place within the culture's history.
The Atlanta R&B singer was part of early hip-hop group The Sequence. The all-female music outfit predates Salt-N-Pepa, who formed in 1985, and Stone is annoyed that VH1 disregarded their place in music history by way of not including them in their Hip Hop Honors celebration.
While the group isn't as well known as other early pioneers of the genre, Stone is furious that VH1 credited Salt-N-Pepa as "the first true female hip-hop group." The group's largest single was 1979's "Funk You Up," which has since been sampled by several notable artists, such as Dr. Dre.
She expressed her outrage in an official statement that shared her frustration with the event, which honored female pioneers of the genre such as Lil' Kim, Missy Elliott and Queen Latifah. 
"Although they made no fuss of previous shows, trusting and believing that their time would come; this time the trio Angie B., Blondy Chisolm and Cheryl "The Pearl" Cook feels undermined and disrespected and want their voice to be heard," the press release read.
"They're honoring 'female' Hip Hop legends," Stone said in the statement. "We definitely should have been included in the celebration this year for sure!"
Hopefully, much like the ladies expressed in their statement, The Sequence will get the shine they deserve someday.