Young Thug Slapped With New Charges Amid Rico Case
The charges involve possession of a machine gun.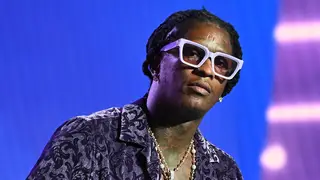 Things aren't looking too positive for rapper Young Thug as Channel 2 Action News reports there have been new indictment charges against the musician involving a machine gun. BET.com previously reported Young Thug's sister, Dorrah, shared how her brother is "all smiles & positive energy" as he's currently incarcerated under RICO charges.
Fulton County District Attorney Fani Willis' office said the new indictment includes all 28 defendants from the May indictment and still focuses on YSL, an organization allegedly founded by Thug and two others.
The new indictment charges came from the arrests involving Thugger and four other defendants on March 17th and May 9th.
The 30-year-old, who will be turning 31 on August 16th, will now face a new gang charge, new drug charges, possession of a firearm during the commission of a felony and possession of a machine gun.
The site also reports that prosecutor Don Geary has mentioned Martinez Arnold and rapper Yak Gotti who are involved in the machine gun count have both pleaded not guilty to the May indictment alongside Thug.
According to Gotti's attorney, Jak Abt, the rapper is "looking forward to his day in court" and is "not guilty of all these charges." The attorney mentions his client isn't a criminal and his music pertains to the urban youth.
Defense Attorney Ashleigh Merchant, who represents Arnold, tells the publication she's confident her client will not be convicted of the original charges and will plead not guilty to the new charges.