The Weeknd vs. Justin Bieber Is the Beef Nobody Asked For
There's already a diss track, too.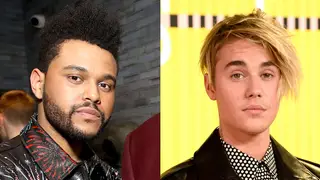 Although the Biebs throwing shade at The Weeknd isn't anything new at this point, he still does have a valid reason to be a little salty: the R&B singer is dating Bieber's ex, Selena Gomez. Unfortunately, the result of the back and forth has grown into a new beef that, admittedly, none of us asked for.
Now that Bieber has made it loud and clear exactly how he feels about the singer he previously referred to as "wack," it only makes sense that the next logical step would be for The Weeknd to fire back. And alas, he has.
In a guest verse for rapper Nav's new song "Some Way," The Weeknd lets out some of his frustration, throwing all sorts of not-so-subtle shots directly at his current girl's ex.
"I think your girl, think your girl, fell in love with me," Weeknd sings. "She say my f**k and my tongue game a remedy."
Ouch. That has to hurt. While Bieber has yet to respond, something tells us that things are seriously about to escalate — and quickly.
Take a listen to The Weeknd's new guest appearance, as well as hear Justin Bieber's original commentary, in the clips below.