SoulCycle Treats High Schoolers to Fitness Program
The cycling company will also help teens make healthy choices and prepare for job search.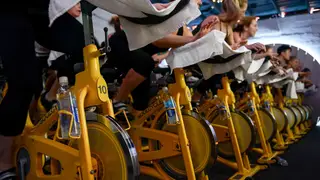 SoulCycle is a fun fitness trend that's been sweeping the nation since its New York City debut in 2006, and with nearly 50 locations around the country and several dozens more to pop up around the globe, it's clear that workout junkies are loving the company's grooving-while-cycling platform. 
Now SoulCycle is trying to scoop up those who aren't excited about working out and teach them that there's fun to be found in fitness. They first partnered up with the Children's Aid Society and the Carrera Program to create the SoulScholarship program. Under this initiative, 25 students attended spinning classes twice-a-week for six weeks and tracked their progress. In addition, the students wrote down their sleeping patterns, kept a food diary, and noted if they were enjoying their new workout routine.
If all this didn't sound incredible enough already, especially after learning that 32 percent of schools in New York City have no full-time, certified gym teachers and 28 percent have no gym, participants were also provided with healthy snacks before and after workouts, nutrition courses and job readiness skills like résumé writing and interviewing techniques. And the fun didn't stop once the six weeks were over as all the students received free access to the studios and were paired with a cycling mentor to continue their SoulCycle progress.
SoulScholarship has made plans to launch a national program and provide all of the above to more than 100 teens around the country in a couple more cities and slowly continue to spread their fun and fit message nationwide. To learn more about the program, visit soul-cycle.com.
BET.com always gives you the latest fashion and beauty trends, tips and news. We are committed to bringing you the best of Black lifestyle and celebrity culture.

(Photo: Alli Harvey/Getty Images for Spotify)