Case of the Ex: Is Monyetta Driving a Wedge Between Ne-Yo and Crystal Renay?
The singer's wife seems quite bothered by his former flame.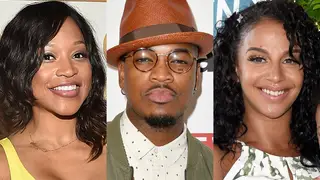 Well, that didn't last long. 
After a drama-filled year, Ne-Yo's wife Crystal Renay and his ex Monyetta Shaw seemed to have landed in a good place earlier this month when they threw a joint "blended family" birthday party for their 5-year-old kids, Madilyn and Mason. But now, it seems like there's still drama between the two women. 
According to Rhymes With Snitch, Crystal has not slowed her roll when it comes to shading Monyetta on social media — and she fired a shot as late as last week.
It started last week, when Monyetta posted a photo of herself with some pals — including Crystal's pal Danielle Crawley — at an American Music Awards watch party. 
Before long, Crystal took to Snapchat and posted this a video of herself in a fit of laughter, captioned, "when 2ppl become friends because they hate you so much."
Sooo, shade? It wouldn't be the first time. Some are speculating that Monyetta's newfound friendship with her ex is leaving Crystal bothered. Just earlier this week, Monyetta posted a video of her ex, Ne-Yo, in concert, asking the crowd to say hello to their two children, Madilyn and Mason.
Hopefully this isn't the end of all the progress this "blended family" has made this year.
Watch Ne-Yo and Crystal celebrate their #BlackLove in their wedding video with About The Business, above.