Michigan Legislature Cuts Welfare Benefits for Families
The state of Michigan has passed a law capping welfare benefits for families to 48 months.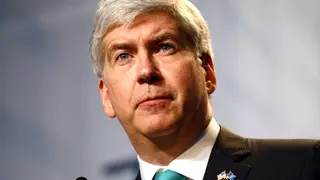 The state of Michigan has passed a law capping welfare benefits for families to 48 months.
The new law, which Gov. Rick Snyder signed last week, goes into effect on October 1. The new law will impact an estimated 12,600 families currently receiving benefits. The measure is retroactive, meaning some families could have only 10 weeks left before exhausting their benefits entirely. After the 48 months, beneficiaries will be expected to have found a job.
As of July, Michigan's unemployment rate is 10.5 percent, which is above the national average of 9.5 percent. According to a recent study by the Economic Policy Institute, Michigan's African-Americans have been hit particularly hard: They experienced unemployment rates of 20% or higher in virtually every quarter since early 2009, including a 2010 annual unemployment rate of 23.4%.
Critics of the law say it punishes the most helpless, the children of the state.
"What state leaders said to some 12,000 families was that some of them might be starving or homeless by Christmas. What they told the children in those families is, whether your parents find a job or not, we're no longer helping," writes Rochelle Riley, a columnist for the Detroit Free Press.
An estimated 20 percent of children in Michigan live below the poverty line, according to data from Kids Count. Some families would start losing payments, averaging $515 a month, by October.
Despite public outcry over the overhaul, a spokeswoman for Sen. Randy Richardville (R-Monroe) told reporters that 48 months is an "adequate" amount of time. Overall, the cuts would save the general fund $63.5 million.
Federal welfare reforms adopted in the mid-1990s previously limited benefits to needy families to 60 months within a lifetime.
(Photo: Rebecca Cook/Reuters)