L&HH Star Arrested on Her Birthday for Assaulting Her Roommate
Looks like things got a little too lit...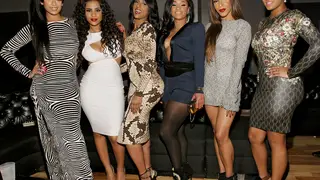 Love & Hip Hop drama doesn't only go on when the cameras are rolling.
Case in point, Tahiry Jose, star of the show's New York edition, recently celebrated her birthday and received a gift she didn't want (or can't return): an arrest by police and a trip to jail.
To make matters worse, according to Tahiry herself, she was the victim of assault. Basically, everything went down on Cinco de Mayo — her 38th birthday — after she walked into her home and got into a physical altercation with a woman Jose allowed to stay there.
According to documents obtained by TMZ, Tahiry punched and scratched the woman's face, pulled her hair and left "reddish bruises" on the right side of her face.
Tahiry says she was the victim and was jumped by the woman, but apparently the local authorities aren't buying it. Tahiry Jose was booked for assault and released the next day. She apparently plans to press charges herself.