Tulsa Hospital Shooting Claims Five Lives In Latest U.S. Mass Gun Violence
Another mass shooting claims multiple victims; police say the gunman specified where he went and who he shot.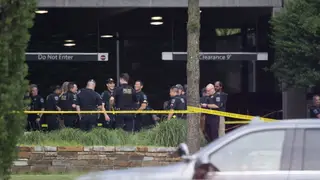 In the latest of a recent spate of mass shootings, a gunman killed four people Wednesday (June 1) in a Tulsa, Okla., medical building. The alleged shooter was later found dead of an apparent self-inflicted gunshot wound, according to the police.
Tulsa police Deputy Chief Eric Dalgleish said the department received a call at about 5 p.m. about a person with a firearm at the Natalie Medical Building on the campus of Saint Francis Hospital, CNN reports. Upon arriving, officers heard gunfire coming from the second floor of the building.
The identities of the four victims who died were not immediately known. Two bodies were found in the same room as the gunman. Fewer than 10 people suffered non-life-threatening injuries.
"It was just madness inside, with hundreds of rooms and hundreds of people trying to get out of the building," Tulsa police Captain Richard Meulenberg told CNN.
Debra Proctor, a registered nurse, told the news station that she was leaving the hospital when she heard police sirens and saw first responders.
"Police cars were lined up everywhere and on the surrounding roads. I snapped pictures and exited the backdoor," she said. "Police were everywhere in the parking lot, up and down the surrounding blocks. They were still arriving when I was leaving."
The carnage comes on the heels of Salvador Ramos, 18, fatally shooting 19 children and two adults on May 24 at the Robb Elementary School in Uvalde, Texas. Just 10 days earlier,  Payton Gendron, 18, entered the Tops Friendly Markets store in Buffalo, N.Y. with a military-style assault rifle and slew 10 Black people in what investigators believe was a racially motivated attack.
Tulsa police said a semiautomatic rifle and a semiautomatic pistol were found next to the suspected gunman's body. They believe those weapons were used in the attack. Investigators did not immediately determine a motive for the rampage, which took place at an orthopedic center in the building.
"He very purposefully went to this location, went to a very specific floor, and shot with very specific purpose," Meulenberg said. "This was not a random shooting by this individual."