Brittney Griner, Reflecting On Being Locked Away, Says She Will Never Play Overseas Again
The two-time Olympic gold medalist reflects on her imprisonment in Russia, where she played basketball in the WNBA offseason.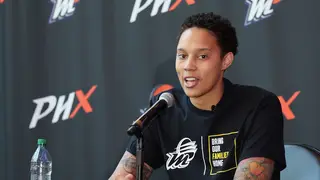 WNBA All-Star Brittney Griner doesn't want to play basketball outside the United States again following her release in December from 10 punishing months behind bars in Russia on a drug conviction.
"I can say, for me, I'm never going overseas to play again unless I'm representing my country at the Olympics," the two-time Olympic gold medalist told reporters Thursday (April 27) at her first press conference since her release, CBS News reports.
Griner's ordeal began in February 2022 when the Phoenix Mercury center traveled to Russia where she played basketball for UMMC Ekaterinburg during the WNBA off season. Russian authorities detained Griner after her arrest at Sheremetyevo Airport near Moscow for allegedly carrying hashish oil vape cartridges in her luggage.
Griner re-signed with the Mercury in a one-year contract and is trying to get in shape for the 2023 regular season tip-off that begins in May.
"Getting back into it was hard. It's still a process," she said, according to CBS News. "Just the little things, I mean. Doing a plank was so simple before. And, couldn't even stay up very long in just a regular plank when I first came back. Because, as an athlete, you always want to be where you left off."
Griner lashed out at the press conference about the salary gap between the men and women's professional basketball leagues. That disparity prompted Griner and other WNBA players to supplement their income by playing overseas.
"It's a shame that we have to leave our families for holidays. I mean, you're missing everything, being away. But, at the same time, as much as I would love to pay my light bill for the love of the game, I can't. So I think that's probably one of the biggest reasons people are still going overseas. And that's why I was there. Hopefully that changes, though," she said, according to CBS News.
Earlier this month, Griner announced that she's penning a memoir which is scheduled for a spring 2024 release.
"Griner describes her stark and surreal time living in a foreign prison and the terrifying aspects of day-to-day life in a women's penal colony," publisher Knopf said. "At the heart of the book, Griner highlights the personal turmoil she experienced during the near ten-month ordeal and the resilience that carried her through to the day of her return to the United States last December."
Griner said she hoped her memoir would raise awareness of other Americans detained in foreign countries, including Paul Whelan, who was not included in the negotiated deal for Griner's release from Russia.
U.S. diplomats and their Russian counterparts negotiated a one-for-one prisoner swap for Griner's release. In exchange, U.S. authorities released Russian arms dealer Viktor Bout, the so-called "merchant of death," who was serving a 25-year prison sentence in the United States.
At the press conference, Griner offered words of encouragement to Whelan and other Americans wrongfully detained overseas.
"Keep fighting. Don't give up. Just keep waking up. Find a little routine and stick to that routine as best you can. I know that's what helped me. ... Just keep pushing. Because we're not gonna stop. We're not gonna stop fighting. We're not gonna stop bringing awareness to everyone that's left behind right now," Griner said, according to CBS News.