Brittney Griner, Months After Being Freed, Writing Memoir About Imprisonment In Russia
The WNBA star and two-time Olympic gold medalist spent 10 months behind bars, including a women's penal colony.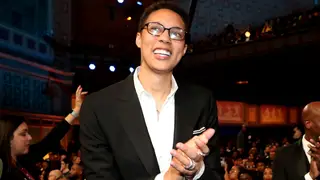 WNBA All-Star Brittney Griner, who was released in December after languishing 10 months behind bars in Russia on a drug conviction, announced Tuesday (April 11) that she's penning a memoir to share her story and thank her supporters.
The Associated Press reported that Griner's book is currently untitled and no financial terms were disclosed. It's scheduled for a spring 2024 release and will eventually be published in a young adult edition.
Griner's ordeal began in February 2022 when the Phoenix Mercury center traveled to Russia where she played basketball for UMMC Ekaterinburg during the WNBA off season. Russian authorities detained Griner after her arrest at Sheremetyevo Airport near Moscow for allegedly carrying hashish oil vape cartridges in her luggage.
"That day (in February) was the beginning of an unfathomable period in my life which only now am I ready to share," Griner said in a statement released by publisher Alfred A. Knopf, according to the AP.
"The primary reason I traveled back to Russia for work that day was because I wanted to make my wife, family, and teammates proud. After an incredibly challenging 10 months in detainment, I am grateful to have been rescued and to be home. Readers will hear my story and understand why I'm so thankful for the outpouring of support from people across the world."
Knopf said the book would be "intimate and moving," as Griner shares details of her detainment, which the U.S. officials classified as wrongful, and her challenges navigating the Russian legal system.
Knopf said, "Griner also describes her stark and surreal time living in a foreign prison and the terrifying aspects of day-to-day life in a women's penal colony. At the heart of the book, Griner highlights the personal turmoil she experienced during the near ten-month ordeal and the resilience that carried her through to the day of her return to the United States last December."
U.S. diplomats and their Russian counterparts negotiated a one-for-one prisoner swap for Griner's release. In exchange, U.S. authorities released Russian arms dealer Viktor Bout, the so-called "merchant of death," who was serving a 25-year prison sentence in the United States.
Griner said she hoped her memoir would raise awareness of other Americans detained in foreign countries, including Paul Whelan, who was not included in the negotiated deal for Griner's release from Russia.