Cuba Gooding Jr. Shown Touching Accuser's Butt In Surveillance Video
The actor has been accused of six counts of sexual assault.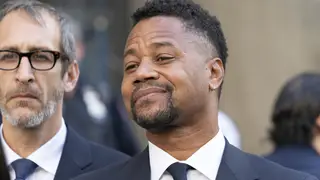 New surveillance video footage shows that Cuba Gooding Jr. did indeed make contact with the backside of one of the women to accuse him of sexual assault. The woman, Natasha Ashworth, claims the incident happened at TAO nightclub in New York City, where she was a server.
In the security footage obtained by TMZ, two camera angles show the actor appearing to make contact with Ashworth's behind. After the initial touch, Ashworth appears bothered, and the two proceed to have a heated conversation. In court documents, Ashworth claims she told Gooding not to touch her butt, and added that he allegedly replied, "Aw, that's no fun, and I didn't, I touched your back."
In the video, Gooding can be seen attempting to show her where he claims to have touched her. Prosecutors said in the indictment, however, that Ashworth clearly grabbed his arm before motioning him to leave her alone.
Ashworth claims in court documents that the actor used his right hand to pinch her right buttock as he was walking past her. She claims the incident happened at around 4:20 a.m. on October 24, 2018, as shown in the video's date and time stamp.
TMZ points out, however, the nature of the touch is not made clear in the video. They claim that "a glancing touch, a pat or the 'pinch' she and prosecutors allege" was not specified. The site further notes that this gray area could potentially help the Oscar winner's case if it goes to a jury trial, where prosecutors would be forced to prove the allegation beyond a reasonable doubt. 
This incident resulted in Gooding being indicted of two of the six counts he is currently facing. 
In response to the clip, the Fighting Temptations star's attorney, Mark Jay Heller, said, "This is a bogus butt grope claim. The video proves Cuba is innocent beyond a reasonable doubt."
Gooding is set to appear in a Manhattan courtroom on Thursday (October 31) to be arraigned on counts five and six, both of which are related to a separate accuser. The actor has pleaded not guilty to all six counts of sexual assault.