This Vegan Personal Chef Takes Pride In Her Cooking And Identity
"Just because people become vegan, I don't want them to feel like they have to miss out on their cultures and traditions."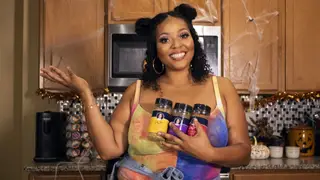 You've heard it before, vegan food doesn't have to be boring or bland. In fact, many African, Caribbean and African American foods can be replicated as a yummy vegan meal. Adoja Courtney, professionally known as Chef Joya, is a master at turning well-known recipes like crab cakes, mac and cheese, and ribs into savory vegan dishes.
She's always found joy in cooking and entertaining others with food. When her community encouraged her to pursue being a chef full-time, she went for it—teaching community cooking classes and meal prepping for others. Now, as a personal chef, she boasts star-studded clients and is the winner of several awards, like being named critics' choice "Best Vegan Chef" and readers' choice "Best Chef" in 2019.
Chef Joya sat down with BET.com to share insight on being a Black woman and personal vegan chef who also identifies with the LGBTQ+ community.
On becoming a personal vegan chef:
"From the age of seven, I grew up vegan. When I got older, I decided to eat everything under the sun and experienced how most foods are supposed to look and taste. I challenged myself and others to go vegan for 30 days. I decided to stick with it, because so many people were transitioning to veganism, and I felt I had a more significant impact on the world. The inspiration I provide to other people keeps me going.
I became a personal chef because I've always enjoyed teaching people how to cook. I used to entertain friends and family and they encouraged me to do it professionally. I started by teaching cooking on Facebook and Instagram Live. Then, I began teaching community cooking classes and meal prepping for others. I met my mentor and was inspired to become a personal vegan chef."
On what influences her food:
"Everything from my background - the way I grew up - to the way others grew up. Most people were raised on the thought that salads and greens were the only easy vegan meals.  But people didn't realize that vegan soul food, African and Caribbean dishes existed. At the time, these cuisines did not have much representation.
While growing up, I had access to those vegan cultural foods. When I became a vegan chef, I wanted everyone to stop having excuses for why they couldn't become vegan and make their favorite cultural foods. I wanted to ensure they could achieve their favorite meals—it tasted good, had the right texture, and they could feed it to their grandma. Just because people become vegan, I don't want them to feel like they have to miss out on their cultures and traditions."
On how her identity has shaped her journey as a personal chef:
"My identity has helped me reach a wider audience as a personal chef. I'm a Black woman who works for herself, and I'm part of the LGBTQ+ community. There are many parts of my identity that can serve as inspiration for others. I've never let people's opinions stop me from doing the things I want to do. I never cared about the hate, because many people spoke up for me in a positive light.
As a black woman who did not come from the restaurant business, it was difficult to get help and mentorship from other chefs, because most of them were non-black men. But once I discovered Chef Lisa Brooks, she became my mentor and encouraged me to continue pursuing a career as a personal vegan chef. I shadowed her and she learned the business side of things. But much of my experience was also trial and error."
Chef Joya always embraces her authentic self and identity. "It's always about being true to who you are at all times and not conforming to what other people want you to be." She encourages everyone to be happy and live in their truth, so that they don't suffer internally.
This article has been edited for clarity purposes.