Snoop Dogg And Wife Shante Broadus Detail How Their Daughter Cori's Early Lupus Diagnosis Inspired Their New Line Of Head Scarves
Cori also shares how her devastating diagnosis at age 6 inspired her to be creative with her hair journey, and how the whole family pitched in.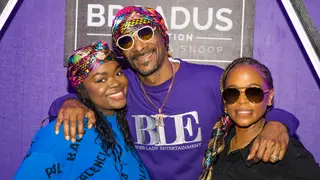 When it comes to branding, few do it better than Snoop Dogg. But when it's a family affair, any sort of launch is far more personal and special.
Last week, in collaboration with beauty supply corporation Annie, The Doggfather, along with his wife Shante Broadus and their daughter Cori Broadus, officially launched The Broadus Collection – a line of scarves that serve a plethora of purposes, including one that really hits home for the trio and the rest of their family.
In 2005, Cori was diagnosed with Lupus, an autoimmune disease that attacks your own tissues and organs and often results in hair loss. At six years of age, Cori had to face the reality that some hairstyles her peers rocked weren't in the cards for her. But it sure didn't break her spirit.
"One day my mom came home with just a bunch of scarves and kind of just made it into fashion," Cori tells BET.com. "I feel like it became fashion because of how we were doing it. We were walking out and going in public and going to the airport and just making wearing scarves cool instead of just wearing it to bed."
In support of their only daughter, Snoop and Shante began wrapping their heads in scarves alongside her to make her feel supported and included. Now, years later, the Broadus family used that inspiration to create a line of scarves to assist the Lupus community in embracing their beauty and expressing themselves through their own unique style.
Launched on Wednesday (September 14), the Broadus Collection features six scarf patterns in two different sizes available for purchase for $11.99 and $12.99. It's a family affair in collaboration with one of the nation's top beauty and lifestyle brands.
"We wanted to do our own scarf line for the family because everyone in the family started wearing them because of Cori," says Shante. "SMAC Entertainment is our partner and helped us get with Annie to make these beautiful scarves."
"It's just having confidence, no matter what your situation is. Sometimes I get sad about the cards I've been dealt with, but hey, this is my journey," Cori adds. "It's up to me to decide what I'm going to do with it. So just living in your truth and finding the beauty in it."
Hair isn't something lost on Cori's father, either. During his over three-decades long tenure in the spotlight, Snoop Dogg has rocked everything from braids and dreads to afros and ponytails.
"I'm always being creative when it comes to hair, to be able to try to create something new off of something that I've done already," Snoop tells BET. "This what is all about – letting your child become who they are and who they are supposed to be, supporting everything about them. And that's what this whole situation is. It's a support system of business and dealing with something that was tragic and making it into something that's beautiful."
Snoop says his efforts at growing and expanding his family's business are no different than others in American history. While he has his own recent lines – including Snoop Loopz Cereal and Broadus Family Candles, to name a few – the Hip Hop legend states that he wants to be a leader of a new wave of family entrepreneurship.
"[It's] just like Kellogg, Kraft, Millers, things that have a family name that's been here for hundreds and hundreds of years," Snoop adds. "This is a generational play right here, it's family, and was spirited from, like I say, a tragic situation that we made it to a beautiful situation. My daughter spearheaded it and my wife is right there driving this. This is a beautiful thing where I don't have to be in the front seat, I can sit in the backseat and enjoy the ride from a different perspective."
Overall, Snoop hopes The Broadus Collection will inspire other Black families to concentrate on their own special stories and help build generational wealth, creating legacies that will stretch for generations.
"As long as we do it as a family, that's all that matters to me. We're having fun and we're doing things that aren't accustomed to considerable Black families," Snoop says. "You think of Black families as one person being wealthy and the rest of the family waiting for a handout. But this is a different dynamic where we're teaching things that aren't so used to our culture. We're trying to break those chains and show the culture that you can be a business and you can be a family you can work together and you can't create ideas from scratch and own them and not have to be told what to do or sell out."