Steph Curry To Secure $1 Billion Bag From Lifetime Contract With Under Armour
Now, that's a whole lotta money!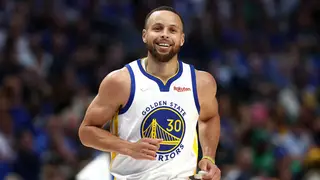 Steph Curry is on the cusp of inking a $1 billion deal with athletic conglomerate Under Armour (UA).
Rolling Stone reported that the Golden State Warrior point guard's current deal will end in 2024. The new deal would be a lifetime contract where Curry will continue to have his own ancillary brand.
Curry's first endorsement deal started with Nike at the beginning of his career in 2009. He left the major brand in 2013 for Under Armour, which paid him almost $4 million annually. In 2015, UA upped the ante to a cool $20 million. The baller's relationship with Under Armour hasn't always been amicable. In 2018, the athlete reportedly threatened to walk away from UA for what was described as a lack of "understanding."
Fortunately, Curry and founder Kevin Plank were able to resolve their issues.
"I don't have to raise my voice to get mad," a satisfied Curry told the publication about the negotiation. "That's the best part about it."
In 2020, the three-point shooting beast launched Curry under the UA umbrella. The brand's goal was described as "a purpose-led performance brand with a mission to ensure every young person has equitable access to sport."
The 34-year-old Akron, Ohio native's requirement for the brand launch was to give back to underserved communities.
"Through the community work I've done with Under Armour for over a decade, I've learned that talent is everywhere, but opportunity is not," said Stephen Curry. "All of our work together has been dedicated to creating a more equal playing field that closes the gap between those two areas. Through Curry Brand, along with the work of Ayesha and my foundation Eat.Learn.Play., I now have a long-term plan to continue to address the barriers to sport that often hinder and limit a child's potential for greatness."