Breast Cancer Care Package: 11 Self-Care Items to Bring You Joy
These products were chosen to help make life a little bit easier during treatment.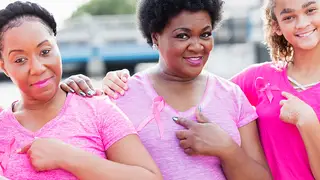 SurviveHER founder Lyndsay Levingston was diagnosed in 2019 with an aggressive subtype of breast cancer. She knows firsthand how difficult it is to go to war with the disease, but after 15 rounds of chemotherapy, she came out victorious. She shares part of her story below and a list of items friends and family can combine to create a thoughtful care package full of keepsakes for the one they love.
A triple-negative stage 2B breast cancer diagnosis took center stage in my life in July 2019 at 37. It's the most aggressive subtype of the disease. It tends to spread and grow faster. Additionally, it is prevalent among Black women under 40 who have a BRCA1 gene mutation.
While going through my first 15 rounds of chemotherapy treatment, I received a care package from a nurse in the chemo suite. It was a tote bag filled with special items, including a blanket, journal, and other goodies, all provided by a nonprofit organization. This small gesture made me smile and feel comforted, supported, and equipped to power through chemotherapy. And I did!
I rang the bell in December 2019, then proceeded with a bilateral breast mastectomy, breast reconstruction, and had my ovaries and fallopian tubes removed. I was declared cancer-free in 2020.
After I conquered cancer, I founded SurviveHER, a nonprofit organization that aims to inform, inspire, and empower a community of breast cancer SurviveHERs and supporters.
We execute our mission through several outreach efforts and programs, including SurviveHER Cares, a care package initiative that has benefited dozens of breast cancer patients in the Houston area. Our goal is to triple our volume to touch the lives of more women across the country.
Below are my recommendations for favorite items to include in a care package that will uplift a woman dealing with breast cancer:
Tracy Nicole Clothing: April Wrap Top

This wrap from Tracy Nicole Clothing was thoughtfully designed and a good option for post-mastectomy patients. "I had tubes and bandages to conceal, and I still wanted to look good. I had no control over what was happening inside my body, but I could control how I looked on the outside," said Tracy Nicole, a breast cancer survivor and founder of the brand. "When I looked good, I felt good. I think that ultimately helped me heal. That experience made me a more thoughtful designer by choosing soft, stretchy fabrics and designing comfortable and transitional clothes; it gave me the courage to launch my clothing line."

Simply Scents Candle Co.

Simply Scents Candle Co created in my hometown of Houston and is my favorite to give as a gift on any occasion. The candles' rich scents, such as angel wings, wild orchard, and vanilla bourbon, will permeate your home for days.

Compassion Blanket

For times when someone needs to feel snuggled, the Compassion Blanket is soft, comfy, and ideal for keeping them warm during a chemo infusion.

Thank God It's Natural

Thank God It's Natural (TGIN) lightly scented Rose Water Curl Defining Styling Gel is perfect for taming and defining chemo curls. The brand was founded by Chris-Tia Donaldson, who passed away in 2021. Although an official cause of death wasn't revealed, Donaldson had had breast cancer. Her desire to advocate for those in treatment for breast cancer and needing financial support lives on through TGIN.

Neck Fan

A valuable addition to your care basket would be a portable neck fan as they help combat hot flashes, which can be a side effect of cancer treatment.

Harmon Polish Cuticle Oil

Some cancer treatments can cause changes and damage to nails. Kemah Duopu created Harmon Polish to inspire entrepreneurs and young adults seeking to discover their passion, dedicated in the memory of Patricia Harmon, her loving aunt who died of breast cancer.

Urban Hydration Castor & Shea Moisture-Locking Castor & Shea Body Lotion with SPF 30

Breast cancer treatment can zap the skin's moisture. Keep it hydrated and protected from the sun with this plant-based go-to from Urban Hydration that contains SPF.

Ginger Tea

Ginger has quite a few health benefits. One is that it is digestive. In fact, according to a 2022 study, ginger may help reduce chemotherapy-induced nausea and vomiting in breast cancer patients. A cup of tea is a relaxing and comforting way to enjoy this spice. Add a package of loose-leaf organic ginger root from the Irie Cup to your care basket.

SurviveHER T-Shirt

Buying a SurviveHER t-shirt is not just a nice addition to a gift basket, but doing so also helps the brand's mission to pay for mammograms for uninsured women and resources for women pre-, during, and post-treatment.

Absolute New York

I discovered Absolute New York's Matte Made in Heaven liquid lipstick and liner duo in a beauty supply store and am addicted. It's the perfect pop of color and pick-me-up on those drab, not-so-good-feeling days. There a lipstick on one end and liner on the other. It is convenient and lasts all day.

What Cancer Cannot Do Journal

To help someone in the thick of doctors' appointments, get them a journal like the one from What Cancer Cannot Do Journal. Your recipient will be able to jot down feelings, doctor's appointment notes, emotions, etc. It's needed.

Meet Lyndsay Levingston

Writer Lyndsay Levingston is a multimedia personality and philanthropist behind SurviveHer, a non-profit organization created to inspire, empower, and inform a community of breast cancer SurviveHers and supporters through advocacy and support.