How Halle Bailey's Locs and Extensions Were Created For Live-Action Film
Stylists used several unique techniques to create the starlet's stunning auburn locs.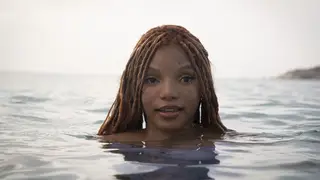 Academy Award-nominated hairstylist Camille Friend is the genius behind the creation of Ariel's flowing red tresses for Disney's live-action version of The Little Mermaid starring Halle Bailey.
Friend, who also worked on Black Panther: Wakanda Forever, utilized a special wrapping technique to create Ariel's look while preserving Bailey's signature locs.
Bailey also wanted to wear her natural hair as a further element of representation for African American fans.
"I went to meet with Halle's family. Her mother is spiritual and they're a kind family." Friend explained to Variety. "I started to understand who she was and why the natural hair element was important to keep."
With the support of director Rob Marshall, Friend went to work. "I look at the facial shape, skin tone and eye color. And what color her costume is going to be." She was also determined not to cut any of Bailey's natural hair or use a wig. "I knew a wig just wasn't going to work."
She adds, "Halle's locs are down to her waist, over 24 inches. And putting her in a wig was going to look crazy."
Friend decided to wrap Bailey's locs in a process that initially took more than 12 hours saying that the 23-year-old star was a "trooper." However, eventually, the process got shorter.
"If we take hair and wrap it around her locs, we don't have to cut them and we don't have to color them. We can change her color without changing her internal hair structure. Her structure and her hair are her." She notes that Bailey's hair in the film is 30-inch long hair that was custom-colored and fused in with Keratin tips.
"It's three shades of red," says Friend, who found the hair at Extensions Plus in Chatsworth. "I'm not guesstimating, but we probably spent at least $150,000 because we had to redo it and take it out. You couldn't use it and we'd have to start again. It was a process."
And because locs don't float in water, some pieces of loose hair were added as well giving a soft beachy feel.
Friend didn't finish the film and adds that the iconic hair flip when Ariel emerges from the water during "Part of Your World," had a little assistance, saying, "This is what I know, Halle did the hair flip, and it was helped with CGI."