All Grown Up! Sasha Obama Turns 21, Parents Share Throwback Photos
Barack and Michelle Obama celebrated their second daughter's birthday on Instagram.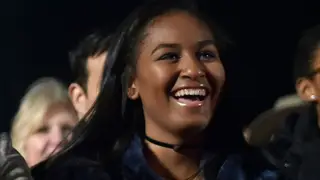 Michelle and Barack Obama celebrated daughter, Sasha's,  21st birthday on, well, where else? Instagram!
The former President and First Lady shared adorable pictures of their second-born daughter on the Gram. The heartwarming photos capture both parents separately holding their infant bundle of joy, whose birthday was Friday, June 10.
As if the pictures weren't enough to tug at the heart, they each posted captions under their respective photos.
"My baby has grown into a beautiful, independent, compassionate, highly capable young woman," Mrs. Obama wrote. "But you will always be my littlest pea. I'm so proud of the human you are becoming. Love your mommy."
Barack's caption read, "Happy birthday, Sasha! I have loved watching you grow into a intelligent, beautiful, and caring young woman you've become. And no matter how old you get – you'll always be my baby girl. Look at those cheeks!"
When Obama was elected the 44th U.S. president in November 2008, Sasha was 7 years old and became the youngest White House resident since 2-month-old John F. Kennedy Jr. and 3-year-old Caroline Kennedy in 1961, according to Biography.