EPA Administrator Michael Regan Talks Tough On East Palestine Environmental Disaster
'No way will Norfolk-Southern get off the hook for the mess they created,' Regan warns.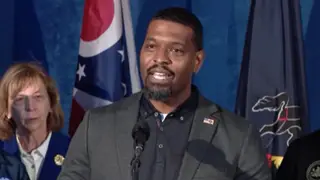 Environmental Protection Agency (EPA) Administrator Michael Regan, the first African American in the role, traveled to East Palestine, Ohio on Tuesday (Feb. 21) for a second meeting with state and local officials and residents, more than two weeks after a toxic train wreck unleashed plumes of toxic black smoke in the area.
Speaking at a press conference, Regan made it clear that Norfolk Southern is responsible for all cleanup related to the derailment, as local residents complain about ailments they believe are connected to the release of toxic chemicals and worry about the safety of their drinking water.
"The Norfolk Southern train derailment has upended the lives of East Palestine families, and EPA's order will ensure the company is held accountable for jeopardizing the health and safety of this community. Let me be clear: Norfolk Southern will pay for cleaning up the mess they created and for the trauma they've inflicted on this community," Regan said in a statement, according to CBS News.
On Tuesday, Regan ordered Norfolk-Southern to pay for the cleanup of all the contaminated soil and water in the area and transport it to appropriate locations, Cleveland station WOIO reported. He added that the company must also reimburse the EPA for the private cleaning offered to all residents and businesses within a certain radius, and company representatives must attend and participate in any public forum related to the derailment.
"No way will Norfolk-Southern get off the hook for the mess they created," said Regan, according to WOIO.
The EPA has the authority under the federal Superfund law to order responsible parties, like Norfolk Southern in this case, to pay for hazardous material cleanups. Meanwhile, Norfolk Southern has acknowledged its responsibility for the cleanup.
"We are committed to thoroughly and safely cleaning the site, and we are reimbursing residents for the disruption this has caused in their lives. We are investing in helping East Palestine thrive for the long-term, and we will continue to be in the community for as long as it takes. We are going to learn from this terrible accident and work with regulators and elected officials to improve railroad safety," Norfolk Southern said in a statement released after the press conference, according to CBS News.
Hundreds of East Palestine residents and 20 homes in Pennsylvania were evacuated from Feb. 5 until the evening of Feb. 8.
On Tuesday, EPA officials demonstrated their water sampling process at the East Palestine Water Treatment Plant. They have screened more than 550 homes for air quality concerns.
Regan vowed to do everything in his power to have hazardous substances cleaned up and to restore a sense of safety in the community.
"We are going to work together, day-by-day, for as long as it takes to make sure that this community feels at home once again," he stated.