The New York Times' 1619 Project About Slavery Draws Criticism From People Who Want To Bury Its Legacy
Newt Gingrich labeled the multipronged project "propaganda."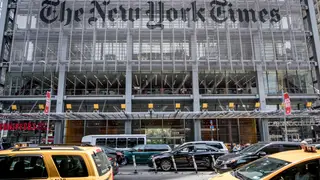 On Sunday, the New York Times Magazine published The 1619 Project, an extensive and thoroughly reported exposé on slavery marking the 400th anniversary of the arrival of the first African slaves to Virginia.
The project, which is authored by all-Black writers, reframes the conversation about slavery and its direct effect on current-day America from a historically white perspective to a Black point of view. It also reveals how intertwined the practice of slavery has been in shaping the nation, including modern capitalistic norms and how America's "original sin" is taught in its schools.
"This project is, above all, an attempt to set the record straight. To finally, in this 400th year, tell the truth about who we are as a people and who we are as a nation," New York Times Magazine reporter Nikole Hannah-Jones said during a launch event. "It is time to stop hiding from our sins and confront them. And then in confronting them, it is time to make them right."
The project features a myriad of reported essays, photo essays, and poems, with more to come, all available online.
So far, The 1619 Project has drawn praise from academics, journalists, activists and politicians alike. Presidential hopeful Kamala Harris labeled it a "powerful and necessary reckoning of our history."
John Legend praised the project's writers and creators, including Hannah-Jones.

And while there's been tons of praise for The 1619 Project, there has also been backlash, particularly from white conservatives who believe ignoring slavery and its effects on America is the best way to make everyone not racist.

Newt Gingrich, the former Speaker of the House, has emerged as one of the piece's top critics, calling it and the Times, "All the Propaganda we want to brainwash you with."

While his mentions were lit up with people pointing out everything from his troubled history of alleged adultery to those saying Gingrich's fear of the project is part of its intent. 

The satirical newspaper The Onion perhaps best deconstructed Newt's tweet with a headline reading "Newt Gingrich Slams 'New York Times' 1619 Project As Shameless Abolitionist Propaganda." 

Other conservatives like radio host Erick Erickson tweeted: "The New York Times undertook a worthy project to educate the public on the history of slavery. But they handed much of it to opinion writers who profit from seeing things through racial lenses and keeping racial tension aflame as much as Trump does."

Many pointed out how Erickson's criticism suggested Black writers couldn't be objective about the history of slavery and civil rights.

On the day The 1619 Project was published, Donald Trump blasted the New York Times, proclaiming, "The New York Times will be out of business soon after I leave office, hopefully in 6 years. They have Zero credibility and are losing a fortune, even now, especially after their massive unfunded liability. I'm fairly certain they'll endorse me just to keep it all going!"