Buy Black!: 19 Black-Owned Brands To Shop To This Juneteenth
For Juneteenth, we are challenging you to buy Black. Grab your wallet and shop 'til you drop as we guide you through the top 2022 Black-owned brands!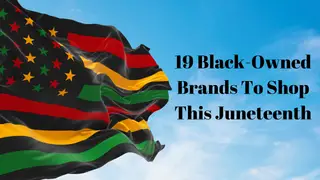 Happy Juneteenth (Sunday 19)! The holiday commemorates the emancipation of enslaved African Americans, but in recent years it's been observed as a reason to celebrate Black culture. Here, at BET we celebrate Black culture every day but in honor of this weekend's lituations we wanted to share nineteen Black-owned businesses to support this Juneteenth and beyond. Below find everything from an allergen-free vegan cookie company to a melanin-friendly SPF brand.
Tote&Carry

Tote&Carry brings top-tier vegan luxury bags to you at an affordable price. In fact, you might have spotted your favorite celebrity jet setting in one of its eye-catching, colorful travel sets. Co-founder Tony Dennis (known as The Stitch Doctor for his decades-long career "stitching" custom pieces) alongside his business partner Tony Rey has created luxurious bags for high-profile clients since the company first broke ground in Atlanta in 2016.

Cay Skin

Supermodel Winnie Harlow created Cay Skin to give everyone under the sun the confidence to show some (protected) skin! Her SPF must-haves like the Isle Glow Face Lotion SPF45 were made with melanin skin especially in mind (say good-bye to sunscreen white-cast and hello to glow-boosting protection). Not to mention, the brand's first after-sun product Deepwater Dew Body Serum just dropped which works to prolong your sun-kissed radiance.

Partake

Created in 2016 by founder and CEO Denise Woodard, when her daughter was diagnosed with multiple food allergies, Partake exists to offer a selection of delicious, allergy-friendly foods that those with and without food restrictions can enjoy and share with confidence. Get its best-selling Crunchy Variety Pack that's gluten-free, vegan, kosher, and non-GMO delivered right to your door.

The Humped Zebra

Brooklyn designer Tiffany Davis created the conversation starter brand, The Humped Zebra, in 2012—representing everything you were ever thinking. Its unisex apparel ranges from tees to crew necks to dad hats. Might we suggest the Need Money for Reparations Unisex T-shirt, perfect for any Juneteeth celebrations?

Forvr Mood

Famed Youtuber turned serial entrepreneur Jackie Aina launched Forvr Mood as a love letter from Black women, to Black women. The brand's candles represent all the moods of Black women with addicting scents and cheeky names. We especially love the Thirst Trapping Candle which has an irresistible burst of tropical fruits.

A House Called Hue

Founder Destiny Brewton originally established A House Called Hue in 2016 as an online marketplace for bespoke afro-inspired apparel and accessories. Now, it's home to a boutique custom patch-making company. The brand is breaking barriers by providing an avenue for consumers and businesses to obtain custom embroidered products without breaking the bank. Check out its variety of Black culture-inspired patches here.

LUVSPUN

LUVSPUN offers 200 flavors of cotton candy made from raw organic sugar and free from anything artificial. Founder Therese Dozier wanted to teach her two kids, who are both on the autism spectrum, that they can create their own lane through entrepreneurship in a world where differences are often not celebrated. The artisanal candy floss company is on a mission to spread 'luv' through workforce development for youth with autism.

MFMG Makeup for Melanin Girls

Founder Tomi introduces her cosmetics line MFMG as "a community of thousands of women that are tired of being the last two shades in a collection and hearing 'we're working on it' when yet another brand ignores the beauty needs of deeper skin tones." Try The Power Palette which houses 12 bold and pigmented vegan eyeshadow shades.

CISE

This Black-owned Los Angeles-based clothing line started with the goal of creating apparel that gives a voice to those in society who are typically ignored. Hence, its very first initiative—Protect Black People, a line with goods emblazoned with the powerful phrase.

Matte Collection

Not only does Justina M's Matte Collection have swimwear sizing up to 2XL, but chances are you've spotted one of its bold designs on Instagram influencers and celebrities alike. Check out its new Havana Heat collection featuring Meagan Good.

Eadem

A dark spot serum is key to any Black or Brown skincare regimen and EADEM founders Marie Kouadio Amouzame and Alice Lin Glover took a hands-on approach when they crafted the brand's hero product. The Milk Marvel Dark Spot Serum is a fragrance-free serum—uniquely formulated for skin of color—that rapidly reduces visible dark spots, hyperpigmentation, and post-acne marks while bestowing a healthy-looking glow.

Golde

Trinity Mouzon Wofford, co-founder and CEO of Golde, launched the company with a single product (the Original Turmeric Latte Blend!) alongside her partner in Brooklyn circa 2017. Today, Golde is a haven for anyone obsessed with superfoods. The Super-Ades Kit has three powdered elixirs that help with everything from bloating to getting that extra glow.

Actively Black

Actively Black is a Black-owned entity created by former professional basketball player Lanny Smith that saw a void in athleisure that he wanted to fill. Instead, he created a brand that invests back into the communities whose culture creates the cool factor for giant brands. The brand caters to men, women, and children.

McBride Sisters Wine Company

Since 2005 the McBride Sisters has grown into what is not only the largest Black-owned wine company in the United States but one of the most inclusive, accessible, socially aware, and sustainable. The stylish bottles stamped with its signature 'Black Girl Magic' labels are hard to miss. Get a taste of its most popular wines with the Black Girl Magic Trio—all three wines are fruit forward and balanced with great body.

Unplugged Essentials

Take self-care to new levels with Unplugged Essentials and its beloved soaks. The brand founded by Kevin M. Rose Jr. dives deep into the natural benefits of its ingredients on the body as well as providing an entire sensory experience. We recommend the Steep & Soak Box Set to any self-care newbies.

Briogeo

Nancy Twine created this clean, plant-based hair care line after shifting her career from finance to beauty to connect with her late mother who was a chemist and often concocted cosmetic treatments from home. Fast-forward and Briogeo now has award-winning products that can be found in the beauty aisles of major retailers. Its Scalp Revival Charcoal + Coconut Oil Micro-Exfoliating Shampoo is beloved by men and women.

Liberte

A former fashion student and lingerie model, Amber Tolliver is the founder of Liberté, a luxury lingerie brand made for the modern woman. Her 17 years of experience as both a standard and plus-size stemmed from a desire to create a brand that meets the needs of women who were ignored by the traditional American lingerie market. Frustrated bra shoppers will adore the designs and fit of Liberte's offerings.

God Is Dope

Sharod Simpson founded God Is Dope, a brand that says "I believe in God in a cool way." Since Simpson created the brand concept in 2015, it has expanded beyond its widely-recognized logo with multiple collections that not only praise God but uplift the Black community including its "Black Women Matter V4" Tee.

Alaffia Good Soap

Alaffia's Good Soap bars are made with moisturizing and protective ingredients like fair trade unrefined, "raw" shea butter, coconut oil, African black soap and goat's milk. Founded in 2003 by Olowo-n'djo Tchala and Prairie Rose Hyde, the husband and wife continue to redefine the natural products industry through its values of beauty, equality and empowerment, fair trade, and safe, efficacious hair, face and body care.