L.A. Mayor: Karen Bass, Rick Caruso Locked In Dead Heat Heading Into Election Day
Caruso has run the most expensive mayoral campaign in Los Angeles history.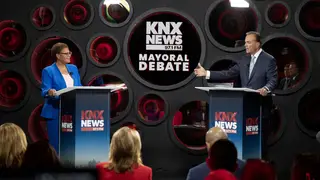 Polling ends Tuesday (November 8), Election Day. However a final snapshot is revealing how important everyone's vote in Los Angeles will be.
Caruso has spent more money on his campaign than any in L.A.'s history while, if she were to win, Bass would be the first woman and second Black mayor of the city.
A UC Berkeley Institution of Governmental Studies poll co-sponsored by The Los Angeles Times released Friday shows Bass maintaining a slight edge of support among 45 percent of likely voters compared to Caruso, who garnered support from 41 percent of likely voters. Around 13 percent of respondents said they remained undecided.
Caruso has touted his business experience and status as a political outsider during his campaigning while Bass has received some major endorsements, including that of former President Barack Obama.
"I am asking Los Angeles to vote for Karen Bass for mayor," Obama said in a video released by the Bass campaign. "I know Karen, she was with me in supporting my campaign from the beginning, and Karen Bass will deliver results. ... Karen has always been on the right side of the issues we care so deeply about. She has devoted her life to serving her community, from working in the emergency room, to saving California from a budget crisis, to delivering relief during the COVID pandemic as a member of Congress."
A main focus of both campaigns has been on L.A.'s homelessness problem with Caruso blaming Bass and other longtime incumbents for the sprawling encampments that have spread into almost every neighborhood.
That said, Pastor Cue Jn-Marie, of Skid Row's Church Without Walls blamed the homelessness crisis at the feet of developers like Caruso.
"Rick Caruso has made his money off of California's number one crisis, which is the homeless crisis," he told the Los Angeles Daily News. "To allow the person who has been basically causing trauma to our communities to be the mayor of the city, I don't see anything getting done."