Black Officers Group Takes NJ Supreme Court Stand For Man Involved In 1973 Police Shooting Incident Linked To Assata Shakur
Sundiata Acoli has been imprisoned for 48 years for an incident in which a New Jersey state trooper was killed. That shooting also resulted in the incarceration of Shakur.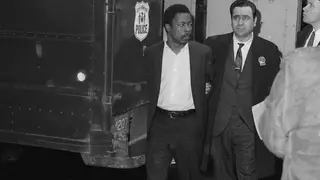 The New Jersey Supreme Court has granted the requests from 10 organizations to file legal briefs or make oral arguments in regards to the parole case surrounding Sundiata Acoli (born Clark Squire) who's been behind bars for 48 years over the killing of a state trooper.
Lawyers for the organizations say the groups will argue that the 84-year-old Acoli is being unjustly barred from parole for the 1973 killing of Trooper Werner Foerster and wounding another officer on the New Jersey Turnpike. The police groups, the National Association of Blacks in Criminal Justice, the Black Police Experience, Blacks in Law Enforcement of America, and the Grand Council of Guardians, Inc. all filed a joint brief.
The New Jersey Parole Board has previously argued that Acoli is likely to commit another crime. It's an assertion that Acoli's legal team say is ridiculous, considering Acoli is an 84-year-old man in the early stages of dementia who still suffers from a serious case of COVID-19 for which he was hospitalized.
Parole Board spokesman Tony Ciavolella said on Wednesday (December 15), "The State Parole Board has no comment as the matter is currently pending before the New Jersey State Supreme Court."
No date for oral arguments has yet been set, but lawyers arguing for Acoli say they expect them to begin in the early part of 2022.
The New Jersey Public Defender's Office, the American Civil Liberties Union, American Friends Service Committee, the National Conference of Black Lawyers, the Association for Criminal Defense Lawyers, and the Center for Constitutional Rights were also admitted to file.
Acoli was with Assata Shakur (identified then as Joanne Chesimard), who was also convicted but later escaped and fled to Cuba. She is still wanted by the FBI and NJ State Police to this day, but has not been extradited. Both were members of the Black Liberation Army and Black Panthers.
Shakur was convicted for murdering Foerster during a traffic stop. Foerster and his partner stopped a car carrying Shakur and two cohorts on the New Jersey Turnpike for a broken tail light. When the troopers approached the car, a gunfight ensued and both troopers were injured. Prosecutors accused Shakur of taking Foerster's gun and shooting him twice in the head as he lay on the ground.
She was convicted in 1977 but escaped from prison in New Jersey in November 1979 with the help of accomplices, according to published accounts. She spent the next few years living in safe houses, two of which were in New Jersey and Pennsylvania, before surfacing in Cuba in 1984.