RuPaul's Runway of Fabulousness: Celebrating His Birthday with Five Iconic Moments
The legend and trailblazer turns 63.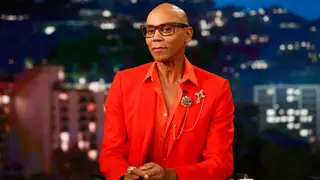 As the incomparable RuPaul marks another year on November 17, we're taking a glamorous stroll down memory lane to revisit some of his most iconic moments. From the release of chart-topping hits to groundbreaking achievements, RuPaul has changed the world of drag and become a global pop culture phenomenon. Join us in celebrating the drag queen extraordinaire's 63rd birthday with a list of some of RuPaul's most fabulous moments that have truly shaped the entertainment world.
"Supermodel (You Better Work)" - 1992

RuPaul's meteoric rise to mainstream success can be traced back to the release of "Supermodel (You Better Work)" in 1992. This infectious anthem not only became a chart-topping hit but set the stage for a career that transcends the boundaries of drag.

"Crooklyn" - 1994

RuPaul showcased his acting prowess in the 1994 film "Crooklyn," directed by Spike Lee. His performance added a touch of glam and charisma to the screen, proving that RuPaul's talent extends far beyond the drag stage.

RuPaul 1994 MAC Viva Glam Campaign

In 1994, RuPaul made history by becoming the face of the MAC Viva Glam campaign, breaking barriers as the first drag queen to represent a major cosmetics brand.

RuPaul's Drag Race - 2009-Present

RuPaul's impact on the world of drag reached new heights with the inception of "RuPaul's Drag Race" in 2009. Serving as the creator, host, and executive producer, RuPaul's Drag Race has become a cultural phenomenon, providing a platform for drag queens to showcase their talents and catapulting drag into the mainstream.

Winning the First Emmy - 2016

recognized RuPaul's immense contribution to the entertainment industry and

In 2016, RuPaul made herstory by winning the Emmy Award for Outstanding Host for a Reality or Reality-Competition Program, becoming the first drag queen to do so. This milestone recognized RuPaul's immense contribution to the entertainment industry and underscored the growing influence of drag culture in mainstream media. His is now a 12-time Emmy winner!

Happy 63rd birthday to the one and only RuPaul, a true trailblazer whose fabulous journey inspires and uplifts audiences worldwide!