This Week In Good Black News: Usher Set To Headline 2024 Super Bowl Halftime Show, Mayor Karen Bass Honored At CBC, And Simone Biles Speaks Out After a Black Gymnast Is Denied a Medal
Plus, Drake and Sza rock out to a No. 1 hit.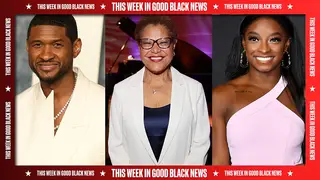 Welcome to "This Week in Good Black News," your source for uplifting and inspiring stories about the Black community. Each week, we put together some of the stories that will inspire you, from Usher getting the call for one of the biggest gigs of his career to the well-deserved honor bestowed upon Los Angeles Mayor Karen Bass at the Congressional Black Caucus Legislative Conference and the powerful voice of Olympic champion Simone Biles advocating for justice in the world of gymnastics. 
Here are 10 of the best moments in Black news from the past week!
NBA All-Star Anthony Edwards Reveals New Shoe Line With Adidas

Minnesota Timberwolves star Anthony Edwards is making big moves! This week, the 22-year-old revealed his new shoe line, the AE 1. The shoe will come in three colors: white and black, salmon orange, and orange and black. The Atlanta native said in a statement, "The launch of the AE 1 is without a doubt one of the pinnacles of my career and life to date. Having the support of adidas Basketball, joining basketball legends who I've looked up to on their roster is a dream come true. This is just the beginning. Believe that."

Get your holiday wish list together now. AE 1 will be available in December 2023 for $120.00. See the shoes above!

Raising Awareness For HIV/AIDS

September 27 was National Gay Men's HIV/AIDS Awareness Day (NGMHAAD), a day dedicated to shining a light on the impact of HIV/AIDS within the gay and bisexual male community. NGMHAAD emphasizes the importance of education, testing, and support. NGMHAAD serves as a powerful reminder that, while significant progress has been made in the fight against HIV/AIDS, the battle is far from over, especially for those within the LGBTQ+ spectrum. Black gay men are disproportionately impacted by HIV/AIDS, but this is a day for individuals, organizations, and communities to come together, raise awareness, combat stigma, and promote access to essential healthcare services!

Mayor Karen Bass Honored At The Congressional Black Caucus

On September 24, during the 2023 Phoenix Awards at the Congressional Black Caucus' 52nd Annual Legislative Conference in Washington, D.C., Los Angeles Mayor Karen Bass received the Foundation Chair's Award for her political career, CBS News reports. Under the theme "Securing Our Democracy, Protecting Our Freedoms, and Uplifting Our Culture," the event was held at the Walter E. Washington Convention Center. Bass was chair of the caucus from 2019 to 2021 and said, "CBC will always be in my heart, and even though I might not be a member of Congress, I still consider myself part of the CBC family."

In December 2022, Bass made history as the first woman elected mayor of Los Angeles.

Happy 55th Birthday Will Smith!

From his early days as a fresh-faced West Philadelphia rapper to becoming one of Hollywood's most versatile actors, Will Smith has enchanted us with his charm, talent, and charisma for decades. His career in music and film spans over 30 years; he's a box office sensation, family man, and philanthropist. "The Fresh Prince of Bel-Air" made him a TV star; however, he would become a Hollywood megastar with films like "Bad Boys," "Independence Day," "Men in Black," and "I Am Legend." 

In 2022, he won an Academy Award for his performance as Venus and Serena Williams' father in "King Richard." In honor of his special day, Smith reposted a video of himself jumping out of a plane, which he did for his 50th birthday (see above). No telling how he spent his big day, but we know it had to be epic. 

Daveed Diggs and Emmy Raver-Lampman Are Expecting!

On September 26, "The Little Mermaid" actor Daveed Diggs, 41, and "The Umbrella Academy" actress Emmy Raver-Lampman, 35, took to Instagram to share their big news. The couple is expecting their first child together, as reported by PEOPLE. In the sweet photo, the Broadway stars are glowing and captioned the post, "We can't wait to meet you." The duo first met while starring in Hamilton in 2015 but began dating years later.  We know this baby is going to be born with a melodic set of lungs! Congrats to the happy couple!

Welcome, Madame President Claudine Gay

The Harvard community and those who appreciate and respect Dr. Claudine Gay have much to celebrate today. Gay was inaugurated as Harvard University's 30th president, making her the first Black academic leader and second woman to hold the top position at the institution. She was named president last December, took office in July, and was officially bestowed with the position at 2 p.m. ET today. The event will be live streamed on Harvard's website.

A fierce defender of diversity, Dr. Gay is a political scientist whose research has helped us better understand human behavior as it pertains to politics, race, and voter turnout. The former dean of the school's Faculty of Arts and Sciences is the daughter of Haitian parents and grew up in New York City. Now, she calls Boston home, lending her expertise as an educator and advocate to Harvard's student body, faculty, and staff, maintaining the university's high levels of excellence, opportunity, and impact.

"There has never been a moment in Harvard's history where we have not faced challenges," Gay told The Boston Globe in December. "That is the nature of this university—to constantly be questioning and searching and exploring. It does underscore what makes it so exciting to be president."

Drake And SZA Hit No. 1

Speaking of Drake, "Slime You Out," his new song featuring SZA, debuted at No. 1 on the Billboard Hot 100. It is the twelfth Billboard Hot 100 No. 1 hit for Drake and marks SZA's second time at the top spot. Additionally, SZA is also representing at No. 3 with her song "Snooze," which got a boost due to a new remix with Justin Bieber. 

Check out Drake and SZA's banger hit above.

Simone Biles Speaks Out After A Black Gymnast Is Denied A Medal

Olympic gold medalist Simone Biles went public, expressing her outrage at the viral footage of a young Black girl who was passed over for a medal at a gymnastics ceremony in Ireland, CNN reports. The video, which took place at a Gymstart event in March 2022, shows medals being handed out to several girls in a line but the Black girl did not receive a medal, which left the child confused and distraught. 

"When this video was circulating, her parents reached out," Biles said on X, formerly Twitter. "It broke my heart to see, so I sent her a little video. There is no room for racism in any sport or at all." In an interview with The Guardian, the gymnast's mother, whose name was not revealed to protect the child and her family from online racist attacks, said that Gymnastics Ireland did not offer an apology until the video went viral. Additionally, the family said that officials from the organization described the incident as a "personal dispute" and not an institutional problem. 

Usher To Headline the 2024 Super Bowl Halftime Show

They call him U-S-H-E-R-R-A-Y-M-O-N-D and he will be the headline performer at the 2024 Super Bowl Halftime Show. The eight-time Grammy winner said in a statement, "It's an honor of a lifetime to finally check a Super Bowl performance off my bucket list. I can't wait to bring the world a show unlike anything else they've seen from me before. Thank you to the fans and everyone who made this opportunity happen. I'll see you real soon." 

This will be the fifth year that Roc Nation produces the halftime show. Roc Nation has been behind some of the most epic halftime performances including Shakira and Jennifer Lopez in 2020, The Weeknd in 2021, a hip-hop showcase anchored by Dr. Dre, Snoop Dogg, Eminem, Mary J. Blige, and Kendrick Lamar in 2022, and who can forget a pregnant Rihanna in 2023.

No matter which two teams make it to the big game, we'll have a front row seat to Usher's epic performance. 

Native Son Hosted 'The Black Gay Leadership Forum: Creating Change In A Changing World'

This week, journalist and activist Emil Wilbekin and his organization Native Son hosted "The Black Gay Leadership Forum: Creating Change in a Changing World." It was the Leadership Forum's first live in-person gathering with panelists that included Torrence Boone, (VP of Global Client Partnerships, Google); David A. Wilson (Co-Founder, theGrio and AFAR); Derek Ford, Jr. (Creator of Carter Wear, Kingsley); Kingsley Gbadegesin (Fashion Designer of K.NGSLEY); Greg Reynolds (Founder and CEO of Hadley-Reynolds) and more. 

Wilbekin said in a recent press release, "As we continue to grow as an organization, we have built a real community within Native Son, and it is central to our mission to introduce programs that will support that community in a very tangible way."

The event was streamed on the Native Son Facebook and YouTube channels. For more information, please visit Nativeson.us.

Come back next week for more good Black news.