Karen Bass Becomes Los Angeles' First Woman Elected Mayor
Much of her campaign was centered around crime, policing and homelessness.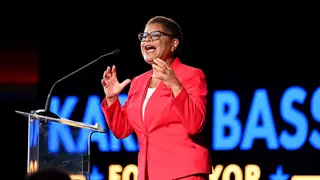 Rep. Karen Bass (D-Calif.) has reportedly won Los Angeles' mayoral race on Wednesday (November 17) against billionaire developer Rick Caruso.
According to the Associated Press, Bass was declared the winner with more than 70 percent of the vote tallied, amassing an insurmountable lead of nearly 47,000 votes. She had 53.1 percent with Caruso totaling 46.9 percent.
With the victory, Bass becomes the first Black woman to hold the post as City Hall contends with an mounting homelessnes crisis, scandals and rising crime rates.
Bass was working in her congressional office in L.A. when she had won the race by an aide, the AP reports.
"We are in a fight for the soul of our city," Bass said during an election night rally. "We are going to build a new Los Angeles."
Bass was able to overcome more than $100 million spent by Caruso's campaign while arguing that she would be a coalition building who could heal the city of nearly 4 million.
Additionally, Bass was backed by President Joe Biden, Vice President Kamala Harris and the Democratic establishment.