Discrimination: Texas School District Said Black 4-Year-Old Boy Must Cut His Hair Or Wear Dress
The 4-year-old's grandmother was given three options to change the boy's hair.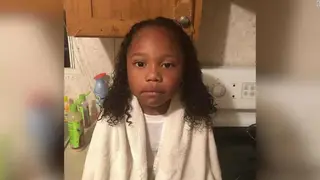 Randi Woodley claims she was told to go to the principal's office on her grandson, Michael "Tink" Trimble's first day of school at Tatum Primary School because his hair was too long. There, Woodley said the superintendent gave her three options. 
"He told me that I could either cut it, braid it and pin it up, or put my grandson in a dress and send him to school, and when prompted, my grandson must say he's a girl," she told KETK. 
The Tatum, Texas, grandmother said the discrimination begins in the school district's dress code, which states hair should not "extend past the top of a t-shirt collar" and that for male students there are "no ponytails, ducktails, rat-tails, male buns, or puff balls are allowed."
On Monday (September 12), enraged parents stood with Woodley at a Tatum Independent School District board meeting, holding signs that included messages like, "I stand with Tink," which is the little boy's nickname. 
Woodley isn't the only parent to report discriminatory practices specific to hairstyles. 
"My son came home, and said, 'Mom, I think there's something wrong with my hair," Kambryn Cox told KETK about her son's experience in the same school district.
Cox said her son, Kellan, was told he couldn't wear his dreadlocks in a ponytail. 
"With my son's dreadlocks, sometimes they do fall in front of his face," she said. "So I felt it would be easier to put his hair up, but then that's a problem." 
Cox added, "I teach him to be his own individual, and I don't think he should ever feel insecure."
The superintendent said she is "not yet" ready to make a comment on the claims. 
Woodley feels the situation is unnecessary and shouldn't impact her grandson's education.
"We shouldn't even be talking about this at any age," she said. "Because hair has nothing to do with learning." 
A petition in honor of Tink, titled "The Civil Rights Violation of a Four Year Old African-American Tatum, Texas Boy," was started and has garnered 7,460 signatures, which is just shy of 40 signatures to reach the 7,500 goal.  
In addition to community support, Woodley's fight is also backed by Atlanta non-profit group the New Order National Human Rights Organization, which she hopes can help Tink "be who he is," reports CNN.