Nelly Confirms He and Ashanti Are Officially Back Together
"Sometimes being separate, you understand one another more," said the rapper.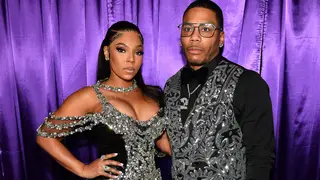 It's no longer a rumor. Nelly and Ashanti have reclaimed their title as the hottest couple in the game.
On Tuesday (September 12), during an interview with Love and Hip Hop stars Rasheeda and Kirk Frost, the St. Louis-bred rapper confirmed he and the R&B singer have rekindled their relationship after a 10-year separation. The interview was shared by The Shade Room on Instagram.
When asked by Rasheeda the relationship status of both artists, Nelly blushed, then let his emotions flow. "Yea, yea, we cool again," he shared.
"I think it surprised both of us though. It wasn't anything that I don't think was planned."
He continued, "I think we both were pretty much doing what we do, but sometimes, being separate, you understand one another more."
"You be like, 'Yo, let me see exactly what they see.' You know, because we all can be defensive sometimes in our own relationships. We know we wrong but we going to stand on it. But we all a victim to that."
For the "Country Grammar" hitmaker, being with Ashanti is pressure-free.
"Before I felt like both of us were doing what we were doing before career-wise, and when you got so many people in the middle of it, it can be tough," he explained.
In April, the duo first sparked reconciliation rumors when they were spotted holding hands and sitting ringside at a boxing match in Las Vegas during a battle between Gervonta Davis and Ryan Garcia. Back in June, Nelly and Ashanti attended the 3rd Annual Birthday Ball for Quality Control CEO Pierre Thomas in Atlanta. At this party, they were both decked out in black and silver.
Their journey dates back to 2003 when they met during a press conference at the Grammy Awards, but they broke up in 2013.