New Music Monday: Leon Thomas, Aminé & KAYTRANADA And Yung Bleu Start Your Week With A Fresh Batch Of New Tunes
Tune in every Monday to catch songs you need to add to your rotation.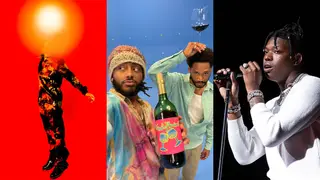 It's hard keeping up with all the new music released each week. Just when you've fallen in love with a certain song, album, or artist, something else drops. It's a fun time to be a music fan, sure, but also tricky.
Rest easy though, as BET has you covered with our weekly New Music Mondays post, featuring some of the latest artists, sounds, and trends in hip-hop, r&b, afrobeat, house and more. We present an eclectic mix of established
You'll find a familiar (and not-so-familiar) array of artists and emerging music. So, without further ado, here are ten new records that you should kick off your week with — led by Leon Thomas, Aminé & KAYTRANADA and Yung Bleu.
Leon Thomas: "Crash and Burn"

Grammy-nominated singer and songwriter Leon Thomas details his struggles in finding true love in his new single released on Friday.

Aminé & KAYTRANADA feat. Pharrell "4EVA"

In coordination with announcing their new joint project KAYTRAMINÉ, Aminé and KAYTRANADA dropped their new single "4EVA," which features Pharrell, on Friday.

Yung Bleu: "Kissing On Your Tattoos"

Off of his upcoming album Love Scars II, Yung Bleu shared the second single/video "Kissing On Your Tattoos."

Drake: "Search & Rescue"

On Friday (April 7), Drake released a "Search & Rescue," a new song co-produced by Lil Yachty, Noah "40" Shebib and Sadpony, which features a famous sample of Kim Kardashian talking with ex-husband Kanye West.

Tony Shhnow: "Real Rare"

Atlanta's Tony Shhnow releases his new single/video for "Real Rare," slated to appear on his forthcoming LP Love Streak, out April 28.

Brandee Younger: "Running Game"

Grammy-nominated harpist and composer Brandee Younger released her new album Brand New Life on Friday, featuring the standout track "Running Game."

Austin Millz feat. Estelle: "Freeway"

Austin Millz taps Estelle for his newly-released single "Freeway" – a catchy spring song that'll get you in the groove.

DC The Don: "Hate Being Lonely"

From his upcoming album FUNERAL, DC The Don releases a new single/video "Hate Being Lonely."

THEY.: "Nü Moon"

THEY. released their new album Nü Moon on Friday, which features Kacey Musgraves and Yung Bleu, among others as well as the title track above.

Bonus Heat #UpAndComing: Check out PGF Nuk's brand new song/video "Blast Off"