Watch Dave Chappelle Beautifully Honor Charlie Murphy
He sang his praises in front of hundreds of people.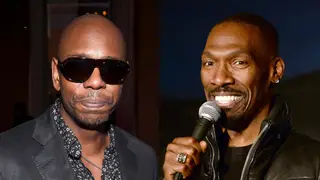 Charlie Murphy's untimely death continues to rock the entertainment world, with several of his peers coming forward to extend their condolences and sing his praises.
Most recently, comedian Dave Chappelle, who gave Murphy one of his first major gigs in comedy, went on stage at a John Mayer concert to speak on the late comedian's light.
While at the show, Chappelle got on stage to praise Murphy for his friendship and comedic genius. Him choosing this particular venue to speak on their relationship is fitting as he mentioned that Mayer's song "You're Going to Live Forever in Me" always reminded him of Murphy.
"Today, I got some terrible news," he said. "My good friend Charlie Murphy passed away this morning and everybody in comedy is heartbroken, so John, you are a sight for sore eyes."
Before Mayer went on to play the song in Murphy's honor, Chappelle gave a back story about how he grew to associate the cut with his friend.
"John, if you would, there was a night, maybe four months ago, where we were at Hotel Café in LA," he said. "You were doing a show for 120 people. You went to the piano and you sang this song, and the song you sang that night reminded me of my friend, Charlie Murphy."
Take a look at the video below:
See how Eddie Murphy remembers his older brother in the BET Breaks video, above.