Biden Campaign Calls Out Racist Trump Rally To Be Held Where Black People Were Massacred
Another dog whistle?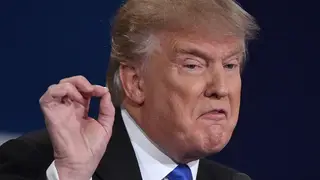 Trump is returning to the campaign trail on Friday, June 19, in Tulsa, Oklahoma. 
The date and location are questionable, considering June 19 is Juneteenth, which celebrates the Emancipation Proclamation, and Tulsa, is where a Black area known as Greenwood was destroyed by white terrorists 99 years ago this month.
According to The Hollywood Reporter, Trump said, "A beautiful new venue, brand new. We're looking forward to it. They've done a great job with COVID, as you know, the state of Oklahoma."
Kamua Marshall, the Director of Strategic Communications for Joe Biden, tweeted, "How racist is Donald Trump: He's so racist that he plans on having one of his first campaign rallies on June 19th in Tulsa, OK. If you don't know — Do some research on #Juneteenth and the racial violence that took place in Oklahoma known as the Tulsa Race Massacre, 1921."
While most slaves were freed through the Emancipation Proclamation effective January 1863, slaves in states under Confederate control were still enslaved. Juneteenth (June 19, 1865) is the day Union troops came to Galveston Island, Texas and forced the state to free its slaves.
RELATED: Cory Booker Proposes $100 Billion To Support HBCUs
Also known as Freedom Day or Emancipation Day, June 19  commemorates the announcement of the abolition of slavery in Texas since 1865. Abolitionist Frederick Douglass wrote "Juneteenth should be more important to Black people than the 4th of July because when the Declaration of Independence was signed, the words did not apply to Black people."
In Tulsa, Oklahoma, in May and June of 1921, a 17-year-old white girl falsely accused a Black teenager of assault and white terrorism ensued, resulting in a  thriving Black area being burned to the ground. The media of the time downplayed the destruction of the successful Black area known as "Black Wall Street."
Additionally, cases of the coronavirus are spiking in Tulsa, according to ABC.