Vanessa Williams: Four Times the Actress Proved She is a Natural Beauty
The former Miss American reveals her anti-aging non-invasive treatment.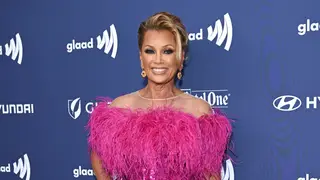 Vanessa Williams is choosing the beauty of aging over fillers. In a brief interview with Page Six Style, she said, "I don't do fillers." The actress clarified that getting the prevalent anti-aging treatment is not for her. She's more open to non-invasive treatments. "I just got a microcurrent thing for your neck; it's like a total package facial," Williams told the outlet.
A microcurrent facial uses electricity at a low voltage to achieve lifting and toning on the skin. The treatment can attain long or short-term results. Here are some of our favorite unfiltered moments from the actress and singer!
Bronzed Beauty

"The Ugly Betty" actress is unbothered while tanning in Bay Harbor, Michigan! Her primarily bare skin, nude lip, and rosy pink blush is simplicity at its finest. This isn't the first time the sun-kissed beauty had some fun outdoors. Williams shared a beach-filled vacation earlier this year while celebrating her 60th birthday in the Bahamas.

Going Bare

Once again, Williams proves her face card does not decline! She is a true bare-skin baddie as she shows off her clear complexion and signature blonde hair. Talk about a double flex! A heartwarming smirk is the only addition to this bare beauty routine. 

SPF on Deck

It's not a shock that the first African-American woman to be crowned Miss America is a pro at protecting her skin. She shared a selfie while wearing no makeup. The 60-year-old can be seen rocking a dad hat and, hopefully, some sunscreen while sailing. 

Yacht Behavior

Williams' smile says she is experiencing pure joy while out to sea. We can't help but ask, "Sixity where!?" Her skin is flawless even after a full day of sun exposure. Her non-invasive skincare treatments are working for her. She's proof you may not need fillers to achieve your anti-aging skincare goals.